Learning Objectives /Objectifs de formation
After completing this unit, you'll be able to: /Une fois cette unité terminée, vous pourrez :
Describe several use cases for the Sales Cloud and Analytics 360 integration. /Décrire plusieurs cas d'utilisation de l'intégration Sales Cloud et Analytics 360.
Understand how data from Sales Cloud and Google Marketing Platform in Google Cloud can be used for advanced marketers. /Découvrez comment les données de Sales Cloud et de Google Marketing Platform dans Google Cloud peuvent être utilisées pour les spécialistes du marketing avancés.
Now that you've learned the basics about the Sales Cloud and Analytics 360 integration, let's dive deeper into use cases and examples of how our platforms can work together to empower your sales and marketing teams to work better together. /Maintenant que vous avez appris les bases de l'intégration de Sales Cloud et d'Analytics 360, explorons plus en détails des cas d'utilisations et des exemples de la synergie entre les plateformes pour permettre à vos équipes de vente et de marketing de mieux travailler ensemble.
Visualize the Full Sales Funnel from Online to Offline /Visualisez l'entonnoir de vente complet du mode en ligne à hors ligne
Use Online Events from Analytics 360 and Offline Events Imported from Sales Cloud /Utiliser les événements en ligne d'Analytics 360 et les événements hors ligne importés de Sales Cloud
One of the simplest but most effective ways to get value from this integration is to explore your offline Sales Cloud data directly in Analytics 360. /L'un des moyens les plus simples mais les plus efficaces de tirer parti de cette intégration consiste à explorer vos données Sales Cloud hors ligne directement dans Analytics 360.
First, ensure that you are tracking the relevant steps of the online funnel with events. For example, if you want to look at the funnel of users who visited your product page then submitted a lead and finally converted, you should set up an event in Analytics 360 for when a user visits your product page. /Tout d'abord, assurez-vous que vous suivez les étapes pertinentes de l'entonnoir en ligne avec les événements. Par exemple, si vous souhaitez examiner l'entonnoir des utilisateurs qui ont visité votre page produit, puis soumis un prospect et finalement converti, vous devez configurer un événement dans Analytics 360 lorsqu'un utilisateur visite votre page produit.
From there, create a custom report that looks at each of those events, the online events measured by Analytics 360 (e.g., the product page visit and the lead form submission) and the offline events imported from Sales Cloud (e.g., lead and opportunity milestones). Then analyze your full online to offline funnel to understand the performance of your different marketing channels./À partir de là, créez un rapport personnalisé qui examine chacun de ces événements, les événements en ligne mesurés par Analytics 360 (par exemple, la visite de la page produit et la soumission du formulaire de prospect) et les événements hors ligne importés depuis Sales Cloud (par exemple, les jalons des prospects et des opportunités) ). Analysez ensuite l'intégralité de votre entonnoir de conversion en ligne vers hors ligne pour comprendre les performances de vos différents canaux marketing.
Use Custom Funnels and Build Targeted Audiences /Utilisez des entonnoirs personnalisés et créez des audiences ciblées
Using the Custom Funnels feature in Analytics 360, you can visualize the steps your users are taking to complete a purchase on your website and take action where there is drop off. Now with your Sales Cloud data integrated into Analytics 360, you can use Custom Funnels to see how successful your business is at turning online leads measured in Analytics 360 into offline sales measured in Sales Cloud. /À l'aide de la fonctionnalité d'entonnoirs personnalisés d'Analytics 360, vous pouvez visualiser les étapes que vos utilisateurs prennent pour effectuer un achat sur votre site Web et prendre des mesures en cas de dépôt. Désormais, avec vos données Sales Cloud intégrées dans Analytics 360, vous pouvez utiliser des entonnoirs personnalisés pour voir dans quelle mesure votre entreprise réussit à transformer les prospects en ligne mesurés dans Analytics 360 en ventes hors ligne mesurées dans Sales Cloud.
Imagine you are a solar panel company, and your website has a lead form potential customers can use to get in touch with a member of your sales team. Now, you can use Custom Funnels to visualize what percentage of leads submitted online were converted to in-person consult, and then which of those went on to purchase the solar panels. These visual reports help you identify drop-off points so that you can fine-tune the customer experience and improve marketing performance. /Imaginez que vous êtes une entreprise de panneaux solaires et que votre site Web dispose d'un formulaire de prospect que les clients potentiels peuvent utiliser pour entrer en contact avec un membre de votre équipe de vente. Désormais, vous pouvez utiliser les entonnoirs personnalisés pour visualiser le pourcentage de prospects soumis en ligne qui ont été convertis en consultation en personne, puis lesquels de ceux-ci ont acheté les panneaux solaires. Ces rapports visuels vous aident à identifier les points de dépôt afin que vous puissiez affiner l'expérience client et améliorer les performances marketing.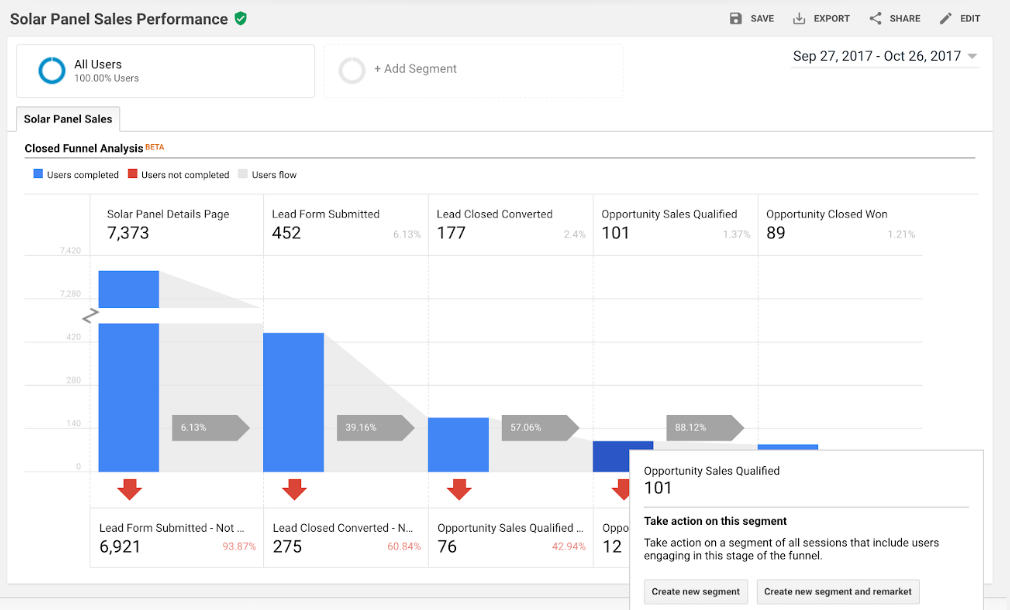 To take immediate action from Custom Funnels, you can simply click Create new segment to build an audience of people who have dropped off from a particular stage. Once you have that audience segment built, you can use it for media targeting, site personalization, or qualitative research. For example, you could build a segment of customers who have filled out the online lead form but have not scheduled a call with a sales agent. You could use digital ads or custom site messaging to encourage this group to follow up. You learn more about this in the sections below. /Pour prendre des mesures immédiates à partir des entonnoirs personnalisés, vous pouvez simplement cliquer sur Créer un nouveau segment pour créer un public de personnes qui ont abandonné une étape particulière. Une fois que vous avez créé ce segment d'audience, vous pouvez l'utiliser pour le ciblage multimédia, la personnalisation du site ou la recherche qualitative. Par exemple, vous pouvez créer un segment de clients qui ont rempli le formulaire de prospect en ligne mais n'ont pas programmé d'appel avec un agent commercial. Vous pouvez utiliser des publicités numériques ou des messages de site personnalisés pour encourager ce groupe à faire un suivi. Vous en apprendrez plus à ce sujet dans les sections ci-dessous.

Then, with advanced attribution tools in Analytics 360, such as Data-driven Attribution, you can create more accurate cross-channel attribution models so you can better understand what channels drive offline sales. For example, after you apply a data-driven statistical model, you may uncover that paid search and email drives more offline solar panel installations than social. You can use this information to adjust your investment for paid search and email—improving your return on ad spend (ROAS) in the process. /Ensuite, avec les outils d'attribution avancés dans Analytics 360, tels que l'attribution basée sur les données, vous pouvez créer des modèles d'attribution cross-canal plus précis afin de mieux comprendre quels canaux génèrent des ventes hors ligne. Par exemple, après avoir appliqué un modèle statistique basé sur les données, vous pouvez découvrir que la recherche payante et la messagerie électronique génèrent plus d'installations de panneaux solaires hors ligne que les réseaux sociaux. Vous pouvez utiliser ces informations pour ajuster votre investissement dans la recherche payante et les e-mails, améliorant ainsi votre retour sur les dépenses publicitaires (ROAS).
Optimize Your Marketing Investment to Offline Goals /Optimisez votre investissement marketing par rapport aux objectifs hors ligne
Going one step further, you can also create Goals in Analytics 360 based on your Sales Cloud events and optimize your digital marketing campaigns for sales that occur offline, instead of just optimizing for form submissions on your site. /Pour aller plus loin, vous pouvez également créer des objectifs dans Analytics 360 en fonction de vos événements Sales Cloud et optimiser vos campagnes de marketing numérique pour les ventes effectuées hors connexion, au lieu de simplement optimiser les soumissions de formulaires sur votre site.
How? Simply share these goals (triggered by offline events imported from Sales Cloud) to Google Ads and Search Ads 360, then adapt your search bidding strategy to account for these goals. /Comment? Partagez simplement ces objectifs (déclenchés par des événements hors connexion importés depuis Sales Cloud) vers Google Ads et Search Ads 360, puis adaptez votre stratégie d'enchères sur le Réseau de Recherche pour tenir compte de ces objectifs.
Note /Remarque
For the solar company optimizing media for installations scheduled over the phone, this could mean paying more for keywords that drive those successful phone calls, and paying less for keywords which drive unqualified leads that do not convert to consultations or to eventual sales. /Pour l'entreprise solaire qui optimise les médias pour les installations programmées par téléphone, cela pourrait signifier payer plus pour les mots-clés qui génèrent ces appels téléphoniques réussis, et payer moins pour les mots-clés qui génèrent des prospects non qualifiés qui ne se convertissent pas en consultations ou en ventes éventuelles.
Intelligently Build Audiences with Sales Cloud Data /Construire de manière éclairée des audiences avec les données de Sales Cloud
In addition to more insightful reporting and smarter media optimization from offline data, the connection between Analytics 360 and Sales Cloud gives you even more audience attributes to work with, helping you improve the specificity of your audiences. /Outre des rapports plus perspicaces et une optimisation des médias plus intelligente à partir de données hors ligne, la connexion entre Analytics 360 et Sales Cloud vous donne encore plus d'attributs d'audience avec lesquels travailler, vous aidant à améliorer la spécificité de vos audiences.
For example, if you're an insurance company that generates leads online but sells policies in person via an agent, you could build an audience in Analytics 360 of all customers who have purchased an auto insurance policy offline. You could use that audience to either deliver relevant display ads (like new insurance products shown to those who browsed that page online) using Display & Video 360, or customize your website (like a customer service showcase) using Optimize 360. /Par exemple, si vous êtes une compagnie d'assurance qui génère des prospects en ligne mais vend des polices en personne via un agent, vous pouvez créer une audience dans Analytics 360 de tous les clients qui ont souscrit une police d'assurance automobile hors connexion. Vous pouvez utiliser cette audience pour diffuser des annonces graphiques pertinentes (comme de nouveaux produits d'assurance présentés à ceux qui ont consulté cette page en ligne) à l'aide de Display & Video 360, ou pour personnaliser votre site Web (comme une vitrine de service client) à l'aide d'Optimize 360.
Note /Remarque
Optimize 360, part of Google Marketing Platform, allows you to create different variations of your website and deliver a personalized experience that works for each customer. Powered by the native integration with Analytics 360, you can use Optimize 360 to conduct site testing and personalization on the insights you've gained from the Analytics 360 and Sales Cloud integration. /Optimize 360, qui fait partie de Google Marketing Platform, vous permet de créer différentes variantes de votre site Web et de proposer une expérience personnalisée adaptée à chaque client. Grâce à l'intégration native avec Analytics 360, vous pouvez utiliser Optimize 360 ​​pour effectuer des tests et une personnalisation de site sur les informations que vous avez obtenues grâce à l'intégration Analytics 360 et Sales Cloud.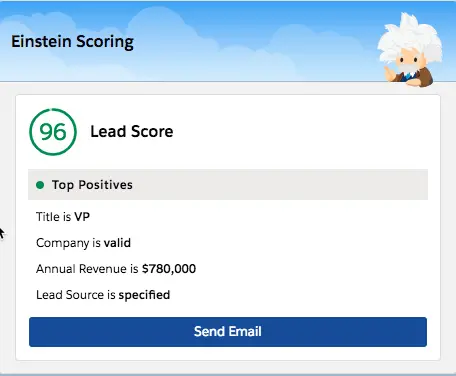 You can even use Einstein Lead Scoring to build these audiences in the above use cases. For example, the solar company could build an Analytics 360 audience of users who filled out a lead form online and then were assigned an Einstein Lead Score of 80 or higher. Then, they can share that audience with Optimize 360 to ensure those qualified users have a unique site experience or to Display & Video 360 to deliver more relevant ads to keep them engaged. /Vous pouvez même utiliser Einstein Lead Scoring pour créer ces audiences dans les cas d'utilisation ci-dessus. Par exemple, la société solaire pourrait créer une audience Analytics 360 d'utilisateurs qui ont rempli un formulaire de prospect en ligne, puis se sont vu attribuer un score "Einstein Lead Score "de 80 ou plus. Ensuite, ils peuvent partager cette audience avec Optimize 360 pour s'assurer que ces utilisateurs qualifiés ont une expérience de site unique ou avec Display & Video 360 pour diffuser des annonces plus pertinentes afin de les fidéliser.
Learn How You Can Delight Your Customers Even More /Découvrez comment vous pouvez satisfaire encore plus vos clients
Once you have built valuable audiences using Sales Cloud and Analytics 360, there are even more opportunities to learn about them and help you discover new, similar customers. /Une fois que vous avez créé des audiences précieuses à l'aide de Sales Cloud et d'Analytics 360, il existe encore plus d'opportunités pour en savoir plus à leur sujet et vous aider à découvrir de nouveaux clients similaires.
Similar Audiences. Similar Audiences is a powerful—but simple—way to reach a much larger audience and drive sales by algorithmically expanding the reach of your existing audiences. For example, you can import into Analytics 360 an audience of highly qualified leads from Sales Cloud, then send that list to Display & Video 360 to build a similar audience that looks like your prospects. You can show tailored ads to this list to try to grow new business. /Audiences similaires. Les audiences similaires constituent un moyen puissant, mais simple, d'atteindre un public beaucoup plus large et de générer des ventes en élargissant de manière algorithmique la portée de vos audiences existantes. Par exemple, vous pouvez importer dans Analytics 360 une audience de prospects hautement qualifiés de Sales Cloud, puis envoyer cette liste à Display & Video 360 pour créer une audience similaire qui ressemble à vos prospects. Vous pouvez diffuser des annonces personnalisées dans cette liste pour essayer de développer de nouvelles activités.
Surveys. Google Surveys 360 gives you the ability to ask questions directly to your audiences, allowing you to learn more qualitative information from your users after you've engaged with them. For instance, you could ask your customers how they feel about your brand or your category, helping you to learn valuable and first-hand insights. /Enquêtes. Google Surveys 360 vous permet de poser des questions directement à votre audience, ce qui vous permet d'obtenir des informations plus qualitatives sur vos utilisateurs une fois que vous avez interagi avec eux. Par exemple, vous pouvez demander à vos clients ce qu'ils pensent de votre marque ou de votre secteur , vous aidant ainsi à obtenir des informations précieuses et de première main.
Google Cloud for deeper analysis. The integration between Sales Cloud and Analytics 360 also allows users to take advantage of Google Cloud. All your Analytics 360 data, including your imported Sales Cloud data, can be sent directly to Google Cloud's BigQuery—a fast, highly scalable, cost-effective, and fully managed cloud data warehouse for analytics, with built-in machine learning. Learn more. /Google Cloud pour une analyse plus approfondie. L'intégration entre Sales Cloud et Analytics 360 permet également aux utilisateurs de profiter de Google Cloud. Toutes vos données Analytics 360, y compris vos données Sales Cloud importées, peuvent être envoyées directement à BigQuery de Google Cloud, un entrepôt de données cloud rapide, hautement évolutif, rentable et entièrement géré pour l'analyse, avec apprentissage automatique intégré.
As you can see, by using the full capabilities of Salesforce Sales Cloud, Analytics 360 and Google Marketing Platform, you can deliver exceptional experiences for your customers and grow your business. /Comme vous pouvez le constater, en utilisant toutes les fonctionnalités de Salesforce Sales Cloud, Analytics 360 et Google Marketing Platform, vous pouvez offrir des expériences exceptionnelles à vos clients et développer votre entreprise.
Resources /Ressources