Learning Objectives /Objectifs de formation
After completing this unit, you'll be able to: /Une fois cette unité terminée, vous pourrez :
Create a single send journey in Journey Builder. /Créer un parcours d'envoi unique dans Journey Builder.
Schedule or send a message with your new journey. /Planifier ou envoyer un message avec votre nouveau parcours.
Some journeys contain many variables designed to tailor specific content based on subscriber behavior or test a multitude of potential paths that finely hone a customer's interaction with a brand. Sometimes, though, you just want to send an email. /Certains parcours contiennent de nombreuses variables conçues pour personnaliser un contenu spécifique en fonction du comportement des abonnés ou tester une multitude de chemins potentiels qui affinent l'interaction d'un client avec une marque. Parfois, cependant, vous souhaitez simplement envoyer un e-mail.
Single Send Journeys make tasks like promoting a new sale as easy as choosing a message, data source, and when to send. Three pretty simple steps, and you're off! /Les parcours d'envoi unique facilitent les tâches telles que la promotion d'une nouvelle vente, tout comme le choix d'un message, d'une source de données et du moment de l'envoi. Trois étapes assez simples, et c'est parti!
In Journey Builder, click Scheduled Single Sends and check out the blank canvas of opportunity before you. /Dans Journey Builder, cliquez sur Envois uniques planifiés et consultez la toile vierge de l'opportunité devant vous.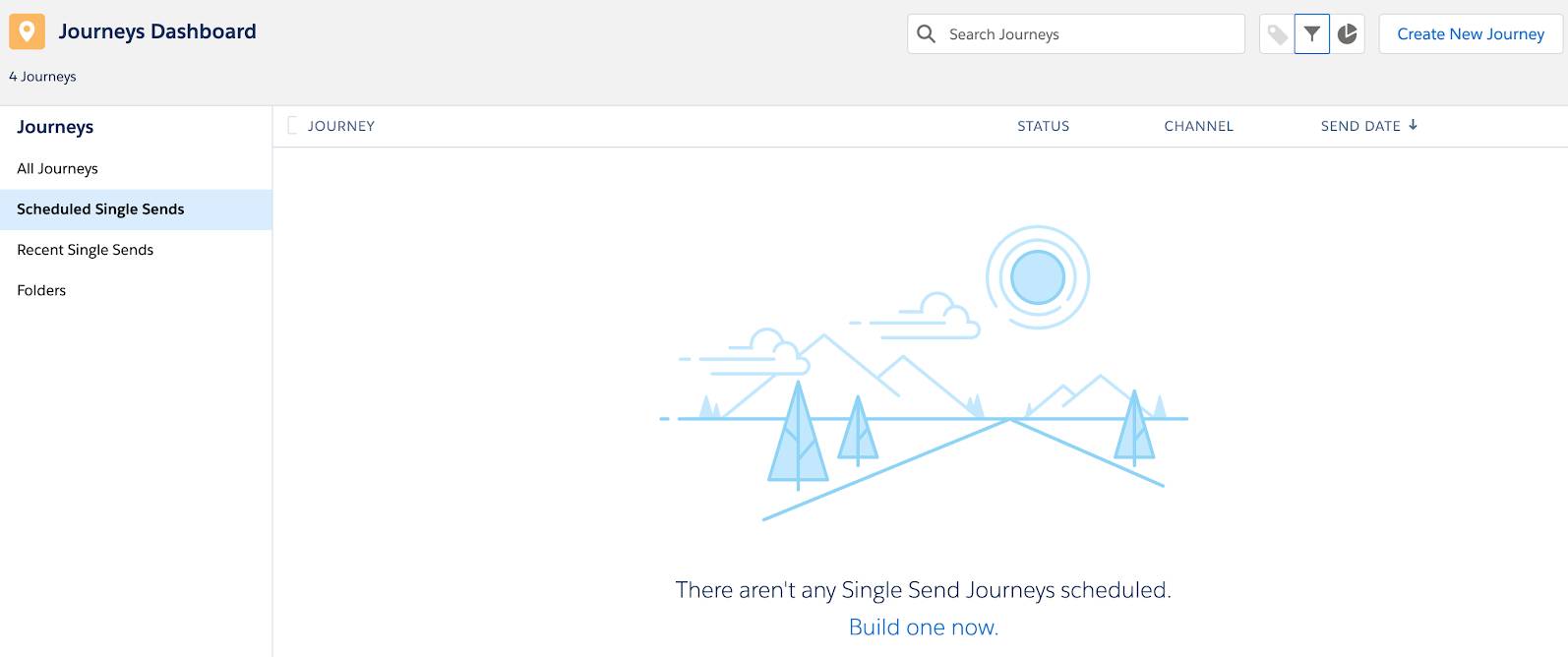 Plenty of room to get started. And whether you're using Single Send journeys to send new product information, promote a white paper, or something else—just follow these steps to build your single-send journey. /Plusieurs possibilités pour commencer. Et que vous utilisiez des parcours à envoi unique pour envoyer des informations sur de nouveaux produits, promouvoir un livre blanc ou autre chose, suivez simplement ces étapes pour créer votre trajet à envoi unique.
Click Create New Journey. /Cliquez sur Créer un new parcours.
Select Email in the Single Send Journey section of Journey Builder. /Sélectionnez E-mail dans la section Envoi unique de Journey Builder.
Click Data Extension. /Cliquez sur Extension de données.
Click Select Data Extension and select the data extension that holds the audience you want to send to. That data extension also contains information that you can use for simple message personalization. /Cliquez sur Sélectionner l'extension de données et sélectionnez l'extension de données qui contient l'audience à laquelle vous souhaitez envoyer. Cette extension de données contient également des informations que vous pouvez utiliser pour une personnalisation simple des messages.
Click Summary./ Cliquez sur Summary
Click Edit in the Filter Contacts section. /Cliquez sur Edit dans la section Filtrer les contacts.
Optionally, choose the criteria that determines which contacts enter the journey. For example, you can create a rule that accepts contacts who made a purchase within the last 24 hours or subscribed in the previous month. Otherwise, skip this step. /Vous pouvez également choisir les critères qui déterminent les contacts qui entrent dans le voyage. Par exemple, vous pouvez créer une règle qui accepte les contacts qui ont effectué un achat au cours des dernières 24 heures ou qui se sont abonnés le mois précédent. Sinon, ignorez cette étape.
Click Summary. /Cliquez sur Summary
Click Done, then click the Email activity. /Cliquez sur Done, puis sur The Email activity
If you already have an email you want to use, click Select Message and choose it. Otherwise, click New Message to build a brand-new email right inside the journey. All the familiar choices like template, HTML, or text are available. /Si vous avez déjà un e-mail que vous souhaitez utiliser, cliquez sur Select Message et choisissez-le. Sinon, cliquez sur New Message pour créer un tout nouvel e-mail directement dans le parcours. Tous les choix familiers comme le modèle, le HTML ou le texte sont disponibles.
Click Edit next to Message Configuration to choose your sender and delivery profiles, along with the subject and preheader for the email (if you want to modify them for this send). /Cliquez sur Edit à côté de Configuration du message pour choisir vos profils d'expéditeur et de livraison, ainsi que le sujet et le pré-en-tête de l'e-mail (si vous souhaitez les modifier pour cet envoi).
Click Delivery Options to associate any publication lists, tracking options, or campaigns with the send. Click Advanced Options to add a keyword or set your Multipart MIME options. Click Summary when you're ready. /Cliquez sur Options de livraison pour associer des listes de publications, des options de suivi ou des campagnes à l'envoi. Cliquez sur Options avancées pour ajouter un mot-clé ou définir vos options MIME à plusieurs parties. Cliquez sur Summary lorsque vous êtes prêt.
Click Schedule and choose whether you want to send the journey immediately or at a scheduled date and time. If you schedule a future date, enter the date and time. Click Done when you're ready to move on. /Cliquez sur Schedule et choisissez si vous souhaitez envoyer le parcours immédiatement ou à une date et une heure planifiées. Si vous planifiez une date ultérieure, entrez la date et l'heure. Cliquez sur Done lorsque vous êtes prêt à continuer.
Click Validate to make sure every part of your journey is correct. If, for example, you didn't include a valid subject line, you receive an error message like this one: /Cliquez sur Valider pour vous assurer que chaque partie de votre parcours est correcte. Si, par exemple, vous n'avez pas inclus de ligne d'objet valide, vous recevez un message d'erreur comme celui-ci:
Click Send if you chose to send immediately, or click Schedule to schedule the send for your selected date and time. /Cliquez sur Envoyer si vous avez choisi d'envoyer immédiatement ou sur Planifier pour planifier l'envoi à la date et à l'heure sélectionnées.
After you run a single-send journey, you have a couple of options to view how that journey performs. To gain a high-level overview of your engagement metrics, click Recent Single Sends on the Journey Builder homepage to see several indicators for your journeys. /Après avoir exécuté un parcours à envoi unique, vous disposez de plusieurs options pour voir comment ce parcours se déroule. Pour obtenir un aperçu de haut niveau de vos mesures d'engagement, cliquez sur Envois uniques récents sur la page d'accueil de Journey Builder pour afficher plusieurs indicateurs de vos parcours.
Status /Statut
Channel /Canal
Sent Date /Date envoyée
Delivery /Livraison
Opens /Ouvertures
Clicks /Clics
Bounces /Rebonds
Unsubscribes /Se désabonne
For more subscriber-level information, open the specific journey and click the message. Within the message, click View Details to see email performance, click activity, and contact analytics in much greater detail. /Pour plus d'informations au niveau de l'abonné, ouvrez le parcours spécifique et cliquez sur le message. Dans le message, cliquez sur Afficher les détails pour voir les performances des e-mails, l'activité des clics et l'analyse des contacts de manière beaucoup plus détaillée.
And that's it! This simple journey takes care of your single-send needs. Plus, you can copy and tweak your journey—even changing the message and data source—to reuse it again and again. The best part? You never have to leave Journey Builder. Now you can manage all of your campaigns in one place—from basic email sends to complex journeys. /Et c'est tout! Ce parcours simple prend soin de vos besoins d'envoi unique. De plus, vous pouvez copier et modifier votre parcours, voire modifier le message et la source de données, pour le réutiliser encore et encore. La meilleure partie? Vous n'avez jamais à quitter Journey Builder. Vous pouvez désormais gérer toutes vos campagnes en un seul endroit, depuis les e-mails de base jusqu'aux parcours complexes.
Resources /Ressources