Learning Objectives /Objectifs de formation
After completing this unit, you'll be able to: /Une fois cette unité terminée, vous pourrez :
Explain what Google Analytics 360 is. /Expliquer ce qu'est Google Analytics 360.
Outline the values of the integration with Salesforce Sales Cloud. /Décrire les valeurs de l'intégration avec Salesforce Sales Cloud.
List the integration requirements to get started. /Lister les exigences d'intégration pour commencer.
Note /Remarque
This module was produced in collaboration with Google, which owns, supports, and maintains the Google products, services, and features described here. Use of Google products, services, and features is governed by privacy policies and service agreements maintained by Google. /Ce module a été produit en collaboration avec Google, qui possède, prend en charge et gère les produits, services et fonctionnalités Google décrits ici. L'utilisation des produits, services et fonctionnalités Google est régie par les politiques de confidentialité et les contrats de service gérés par Google.
Online and Offline, Sales and Marketing, Connecting the Dots /En ligne et hors ligne, ventes et marketing, relions les points de contact client
With customer touch points occurring across so many sources, it can be hard for marketing and sales teams to create a complete, accurate view of the customer story. It's even harder when a large portion of the sales process occurs offline. Like chapters in a book, you need to have them all together for everything to make sense. /Avec des points de contact client sur autant de sources, il peut être difficile pour les équipes marketing et commerciales de créer une vue complète et précise de l'histoire du client. C'est encore plus difficile lorsqu'une grande partie du processus de vente se déroule hors ligne. Comme les chapitres d'un livre, vous devez les avoir tous ensemble pour que tout ait un sens.
When you have a complete view of the customer, you can understand how effective your marketing has been in delivering sales. You can improve the performance of your digital marketing by optimizing your bids or by focusing on the most valuable audiences. Sales teams can get even more targeted and relevant support to help them progress and close deals. /Lorsque vous avez une vue complète du client, vous pouvez comprendre à quel point votre marketing a été efficace pour générer des ventes. Vous pouvez améliorer les performances de votre marketing numérique en optimisant vos enchères ou en vous concentrant sur les audiences les plus intéressantes. Les équipes commerciales peuvent bénéficier d'un soutien encore plus ciblé et pertinent pour les aider à progresser et à conclure des affaires.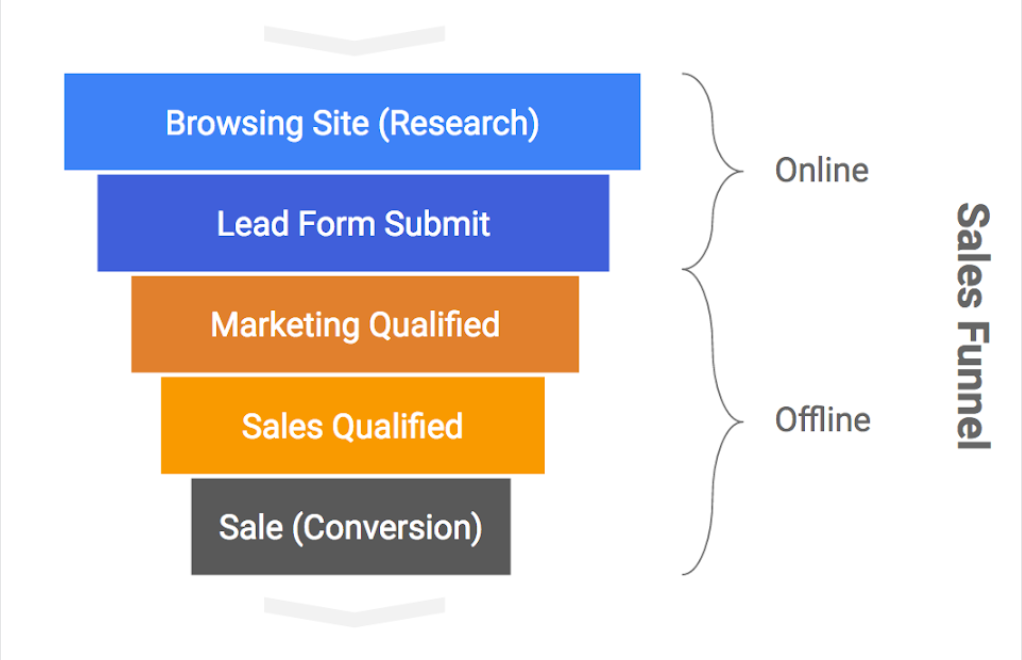 What is Google Marketing Platform and what is Analytics 360? / Qu'est-ce que Google Marketing Platform et qu'est-ce qu'Analytics 360?
Google Marketing Platform is a unified advertising and analytics platform that helps enterprise marketers make better decisions faster. With Google Marketing Platform, you're in control of your marketing, so you have the flexibility to adapt to the needs of your business and your customers. /Google Marketing Platform est une plateforme de publicité et d'analyse unifiée qui aide les spécialistes du marketing d'entreprise à prendre plus rapidement de meilleures décisions. Avec Google Marketing Platform, vous contrôlez votre marketing, vous avez donc la flexibilité de vous adapter aux besoins de votre entreprise et de vos clients.
Google Analytics 360*, part of Google Marketing Platform, gives you the tools you need to better understand your customers. Use the insights you learn to take action, such as improving your website, creating tailored audience lists, and more. In addition to the features available in Google Analytics, Analytics 360 provides additional capabilities: /Google Analytics 360 *, qui fait partie de Google Marketing Platform, vous offre les outils dont vous avez besoin pour mieux comprendre vos clients. Utilisez les informations que vous apprenez pour agir, comme l'amélioration de votre site Web, la création de listes d'audience personnalisées, etc. En plus des fonctionnalités disponibles dans Google Analytics, Analytics 360 offre des fonctionnalités supplémentaires:
Advanced Analysis /Analyse avancée
Unsampled reports /Rapports non échantillonnés
Google BigQuery export /Exportation Google BigQuery
Data-driven attribution /Attribution basée sur les données
Native integrations with Google Marketing Platform /Intégrations natives avec Google Marketing Platform
Integrations with Salesforce /Intégrations avec Salesforce
*There is an annual license fee for Analytics 360 and Salesforce is an authorized reseller. /* Il existe des frais de licence annuels pour Analytics 360 et Salesforce pour un revendeur agréé.
How Salesforce and Google Put It All Together /Comment Salesforce et Google fusionnent ces informations
With the Sales Cloud and Google Analytics 360 integration, you can link your accounts and import your Sales Cloud data directly into Analytics 360 and get a more complete view of the entire customer story, whether it happens online, offline, or both. This will help you better optimize your digital marketing and bring more customers to your sales teams. /Grâce à l'intégration de Sales Cloud et de Google Analytics 360, vous pouvez associer vos comptes et importer vos données Sales Cloud directement dans Analytics 360 et obtenir une vue plus complète de l'ensemble du témoignage client, que ce soit en ligne, hors ligne ou les deux. Cela vous aidera à mieux optimiser votre marketing numérique et à attirer plus de clients pour vos équipes commerciales.
This integration is designed to save time, get more valuable insights, help you optimize your media, and customize your marketing experiences for specific audiences. /Cette intégration est conçue pour gagner du temps, obtenir des informations plus précieuses, vous aider à optimiser vos médias et à personnaliser vos expériences marketing pour des publics spécifiques.
Save Time. Combining all of these offline and online insights used to be a time-consuming process involving multiple spreadsheets and disparate data. This integration helps you cut down on the wait time from importing offline conversion data and helps you stitch together these insights automatically, updating as often as hourly. /Gagner du temps. La combinaison de toutes ces informations hors ligne et en ligne était un processus chronophage impliquant plusieurs feuilles de calcul et des données disparates. Cette intégration vous aide à réduire le temps d'attente pour l'importation des données de conversion hors ligne et vous aide à assembler ces informations automatiquement, en les mettant à jour aussi souvent que toutes les heures.
Get More Insights. With Sales Cloud data in Analytics 360, you can see offline sales data alongside your site analytics and media data. For example, is organic search driving more phone sales compared to paid search? With your offline sales data from Salesforce Sales Cloud in Analytics 360, you now have the insights to help you answer this question, and many more. /Obtenez plus d'informations. Avec les données Sales Cloud dans Analytics 360, vous pouvez voir les données de ventes hors ligne aux côtés des analyses de votre site et des données multimédias. Par exemple, la recherche organique génère-t-elle plus de ventes de téléphones que la recherche payante? Avec vos données de ventes hors ligne de Salesforce Sales Cloud dans Analytics 360, vous disposez désormais des informations nécessaires pour vous aider à répondre à cette question, et bien d'autres.
Optimized Media for Better ROI. Optimize paid media based on offline sales activity. For example, once you've created Goals in Analytics 360 based on your Sales Cloud events, you can automatically optimize your search or display campaigns for actual sales that occur offline, instead of optimizing for form submissions on your site. This will likely lead to improved ROI as you spend your digital media budgets on more valuable outcomes. /Médias optimisés pour un meilleur retour sur investissement. Optimisez les médias payants en fonction de l'activité de vente hors ligne. Par exemple, une fois que vous avez créé des objectifs dans Analytics 360 en fonction de vos événements Sales Cloud, vous pouvez automatiquement optimiser vos campagnes de recherche ou d'affichage pour les ventes réelles qui se produisent hors ligne, au lieu d'optimiser les soumissions de formulaires sur votre site. Cela entraînera probablement un meilleur retour sur investissement lorsque vous dépenserez vos budgets médias numériques sur des résultats plus intéressants.
Intelligently Build Audiences. With Sales Cloud data in Analytics 360, you will be able to more intelligently build audiences based on the intersection of online and offline data. For instance, you can create audiences in Analytics 360 made up of qualified leads from Sales Cloud. You can then reach those customers with more relevant ads, including search ads, display ads, and video ads. /Créez vos audiences de façon réfléchie . Avec les données Sales Cloud dans Analytics 360, vous serez en mesure de créer des audiences en connaissance de but souhaité ainsi qu'en fonction de l'intersection des données en ligne et hors ligne. Par exemple, vous pouvez créer des audiences dans Analytics 360 composées de prospects qualifiés de Sales Cloud. Vous pouvez ensuite impacter ces clients avec des annonces plus pertinentes, notamment des annonces du Réseau de Recherche, des annonces graphiques et des annonces vidéo
Two Things You Need to Know /Deux choses que vous devez savoir
There are two key requirements you should keep in mind if you are interested in using this integration. /Il y a deux exigences clés que vous devez garder à l'esprit si vous souhaitez utiliser cette intégration.
You must be a licensee of both Salesforce Sales Cloud and Analytics 360 in order to use this integration. This integration is only available to customers who have purchased Analytics 360. /Vous devez être titulaire à la fois de Salesforce Sales Cloud et d'Analytics 360 pour utiliser cette intégration. Cette intégration n'est disponible que pour les clients qui ont acheté Analytics 360.
The integration supports sharing data from Sales Cloud Objects Leads and Opportunities. The Leads and Opportunities shared with Analytics 360 must have originated from an Analytics 360-tagged site for the integration to work, and the lead can be created either via an online lead form (native integration) or via a phone call (custom solution adding a call tracking solution). /L'intégration prend en charge le partage de données à partir de prospects et d'opportunités Sales Cloud Objects. Les pistes et opportunités partagées avec Analytics 360 doivent provenir d'un site balisé Analytics 360 pour que l'intégration fonctionne, et la piste peut être créée via un formulaire de prospect en ligne (intégration native) ou via un appel téléphonique (solution personnalisée ajoutant un solution de suivi des appels).
Note /Remarque
If your organization uses Custom Objects, you may have to use an alternative setup depending on how those Custom Objects are deployed. Please refer to Unit 3: Dive Into Some Use Cases and Examples and corresponding resources, or consult with your service provider for more details. /Si votre organisation utilise des objets personnalisés, vous devrez peut-être utiliser une configuration alternative en fonction de la façon dont ces objets personnalisés sont déployés. Veuillez vous référer à l'Unité 3: Plongez dans certains cas d'utilisation et exemples et les ressources correspondantes, ou consultez votre fournisseur de services pour plus de détails.
Resources /Ressources