Learning Objectives /Objectifs de formation
After completing this unit, you'll be able to: /Une fois cette unité terminée, vous pourrez :
Navigate to the Journey Builder app. /Naviguer dans l'application Journey Builder.
Describe key features of the Journey Builder dashboard. /Décrire les principales fonctionnalités du tableau de bord Journey Builder.
Describe key features and functionality of the Journey Builder canvas. /Décrire les principales caractéristiques et fonctionnalités du canevas Journey Builder.
Get to Know the Journey Builder Dashboard /Apprenez à connaître le tableau de bord Journey Builder
Marketers use Journey Builder to create and manage a variety of responsive, automated, multi-channel marketing campaigns, including: /Les spécialistes du marketing utilisent Journey Builder pour créer et gérer une variété de campagnes marketing réactives, automatisées et multicanaux, notamment:
Welcome campaigns for new customers who subscribe or opt-in /Campagnes de bienvenue pour les nouveaux clients qui s'abonnent ou s'inscrivent
Promotional campaigns for new products, services, sales, or special events /Campagnes promotionnelles pour de nouveaux produits, services, ventes ou événements spéciaux
Reengagement campaigns for customers who abandon their cart or search /Campagnes de réengagement pour les clients qui abandonnent leur panier ou leur recherche
Retention campaigns for customer birthdays, anniversaries, or renewal dates/Campagnes de fidélisation pour les anniversaires, les anniversaires ou des renouvellement d'abonnements client
Before we dive into the application, it's important to understand that while Journey Builder is powerful and effective, it's not a standalone product. Journey Builder uses the content and audiences you created in Email Studio, Mobile Studio, Social Studio, Advertising Studio, Content Builder, and Contact Builder within Marketing Cloud in order to do its work. /Avant de plonger dans l'application, il est important de comprendre que si Journey Builder est puissant et efficace, ce n'est pas un produit autonome. Journey Builder utilise le contenu et les audiences que vous avez créés dans Email Studio, Mobile Studio, Social Studio, Advertising Studio, Content Builder et Contact Builder dans Marketing Cloud afin de faire son travail.
To begin using the Journey Builder application, log in with your Marketing Cloud username and password. If you're not a Marketing Cloud customer or Journey Builder is not enabled in your account, don't worry. /Pour commencer à utiliser l'application Journey Builder, connectez-vous avec votre nom d'utilisateur et votre mot de passe Marketing Cloud. Si vous n'êtes pas un client Marketing Cloud ou si Journey Builder n'est pas activé dans votre compte, ne vous inquiétez pas.
In this and subsequent modules, we show you lots of screenshots and give you step-by-step instructions so you can see just how easy it is to navigate and use Journey Builder. / Dans ce module et les suivants, nous vous montrons de nombreuses captures d'écran et vous donnons des instructions étape par étape afin que vous puissiez voir à quel point il est facile de naviguer et d'utiliser Journey Builder.
Go to mc.exacttarget.com. /Accédez à mc.exacttarget.com.
Enter your Username. /Entrez votre nom d'utilisateur.
Enter your Password. /Tapez votre mot de passe
Click Log In. /Cliquez sur Connexion.
In Marketing Cloud, hover over Journey Builder in the top navigation bar. /Dans Marketing Cloud, passez la souris sur Journey Builder dans la barre de navigation supérieure.
Click Journey Builder. /Cliquez sur Journey Builder.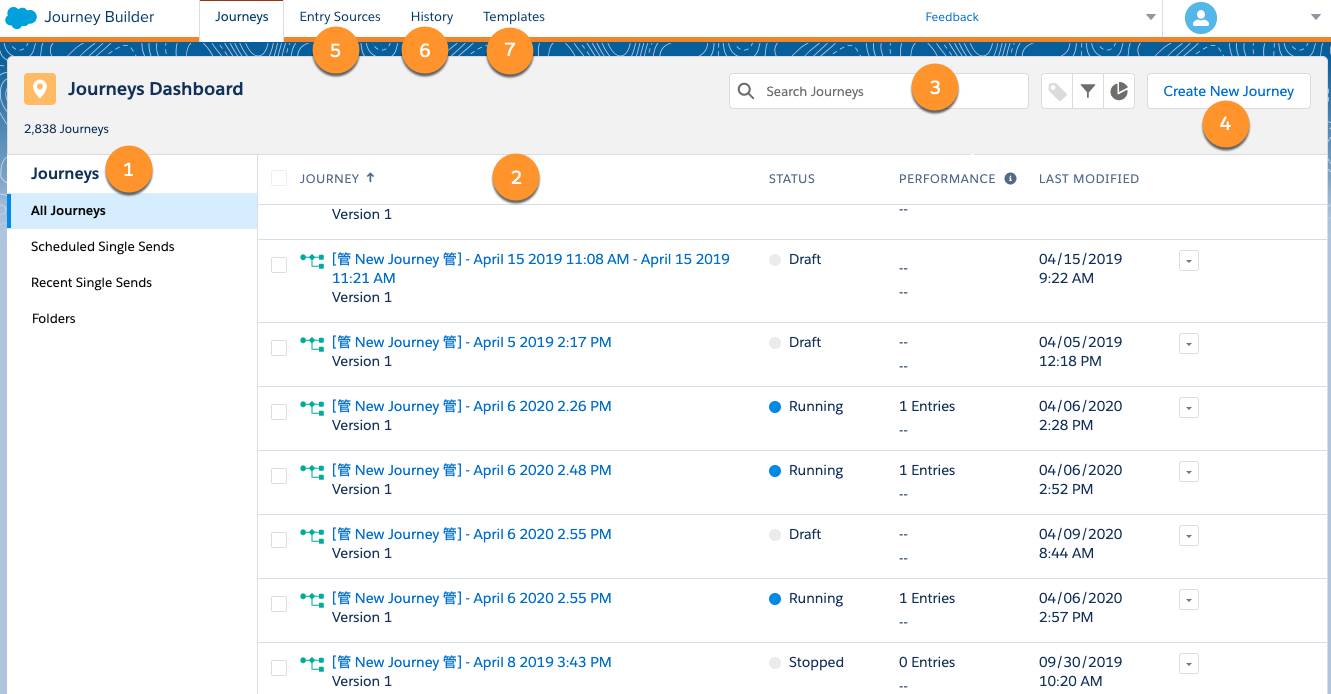 You've arrived! Now, let's explore the components of the Journey Builder dashboard. /Vous êtes arrivé! Examinons maintenant les composants du tableau de bord Journey Builder.
Journey Folders: Store journeys in folders so they're easy to find. You can organize your journeys immediately after creating and saving them, or you can add journeys to folders from the Journey Builder dashboard at any time. /Journey Folders: stockez les parcours dans des dossiers pour qu'ils soient faciles à trouver. Vous pouvez organiser vos parcours immédiatement après leur création et leur enregistrement, ou vous pouvez à tout moment ajouter des parcours à des dossiers à partir du tableau de bord Journey Builder.
Journey: View a list of all journeys or the journeys available within each folder. This list includes status, performance, and when the journey was last modified. /Journey: affichez une liste de tous les parcours ou des parcours disponibles dans chaque dossier. Cette liste comprend l'état, les performances et la date de la dernière modification du parcours.
Search Journeys: Looks at journey titles and descriptions to help you find specific journeys. /Search Journeys: examine les titres et descriptions des journeys pour vous aider à trouver des journeys spécifiques.
Create New Journey: This is your starting point to create a new journey from scratch or a template. /Create New Journey: c'est votre point de départ pour créer un nouveau parcours à partir de zéro ou un modèle.
Entry Sources: View the entry sources previously used for your journeys. Entry sources can be unique or shared among journeys. From here, you can also test, copy, or delete entry sources. /Entry Sources: affichez les sources d'entrée précédemment utilisées pour vos voyages. Les sources d'entrées peuvent être uniques ou partagées entre les journeys. De là, vous pouvez également tester, copier ou supprimer des sources d'entrée.
Journey History: Use the ContactID to view a contact's path through a journey or journey version. /Journey History: Utilisez le ContactID pour afficher le parcours d'un contact à travers un parcours ou une version de journey.
Journey Templates: Contains predefined, editable journeys that show in-context guidance based on common use cases and marketing best practices. Get a head start creating your journey with Journey Templates. /Journey Templates: contient des journeys prédéfinis et modifiables qui affichent des conseils contextuels basés sur des cas d'utilisation courants et des meilleures pratiques marketing. Prenez une longueur d'avance dans la création de votre journey avec les modèles de journey.
Note/Remarque
More detailed Journey Analytics are available to customers who enable the Google Analytics 360 Integration to their Marketing Cloud account. Contact your account representative for more information. /Des analyses de parcours plus détaillées sont disponibles pour les clients qui activent l'intégration de Google Analytics 360 dans leur compte Marketing Cloud. Contactez votre représentant de compte pour plus d'informations.
Explore the Journey Builder Canvas /Explorons l'outil Journey Builder
Now that you've toured the Journey Builder dashboard, let's take a look at the Journey Builder canvas. /Maintenant que vous avez visité le tableau de bord Journey Builder, jetons un œil à l'outil Journey Builder.
The canvas looks slightly different depending on the status of the journey. /L'interface est légèrement différente selon le statut du voyage. Commençons par examiner un parcours à l'état de brouillon.
Let's start by looking at a journey in draft status. Click Create New Journey or click an existing journey draft. We discuss how to create a single-send journey later in this module, and you can learn about building more complex journeys in Journey Builder Campaigns. Right now, let's focus on what's available on the canvas. /Cliquez sur Créer un nouveau parcours ou sur un brouillon de parcours existant. Nous expliquons comment créer une journey à envoi unique plus loin dans ce module, et vous pouvez en apprendre davantage sur la création de parcours plus complexes dans les campagnes Journey Builder. Pour l'instant, concentrons-nous sur ce qui est disponible sur l'outil.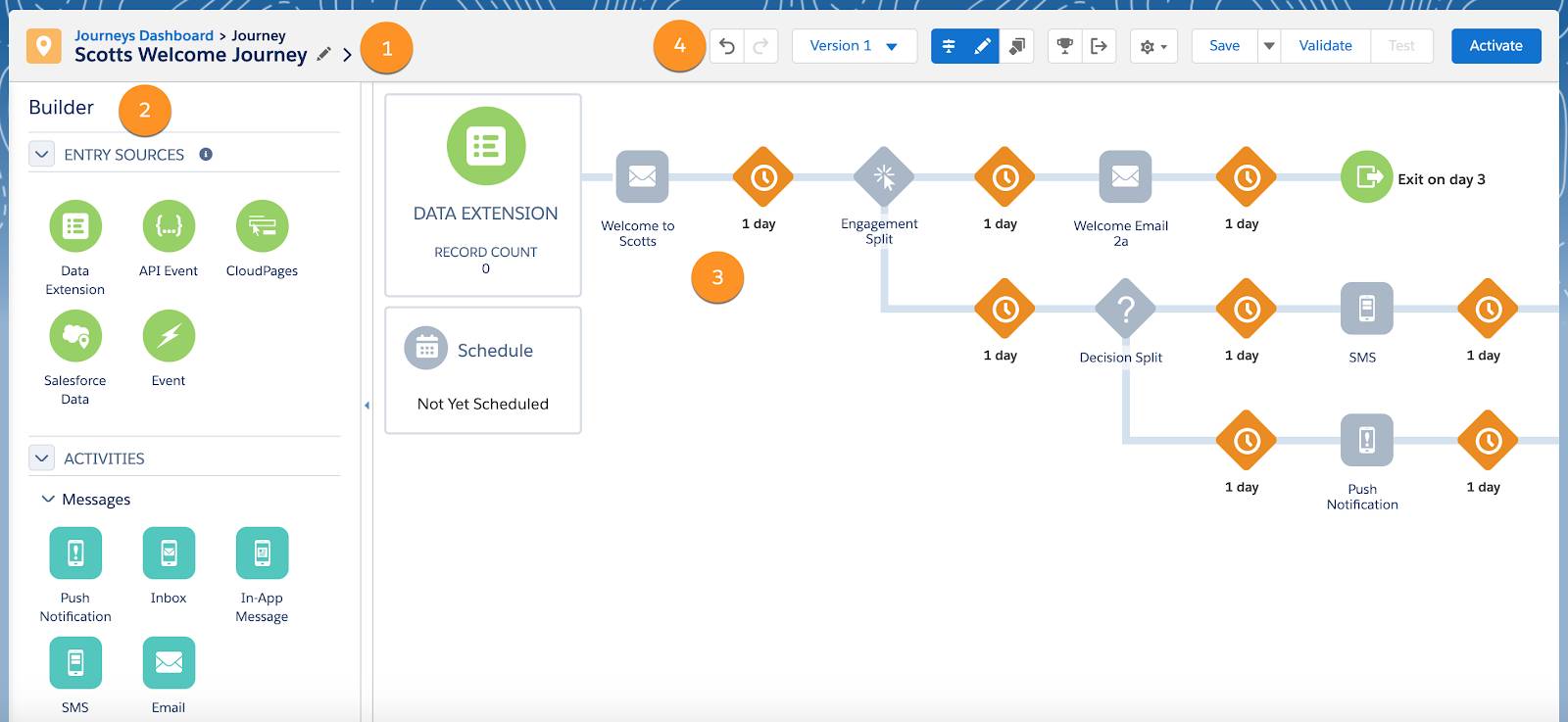 The canvas has four components: /L'outil comporte quatre composants:
Journey title and description /Titre et description de la journey
Entry sources and canvas activities /Sources d'entrée et activités
Journey Canvas /Journeys
Journey Builder toolbar /Barre d'outils Journey Builder
Let's look at these in more detail. /Examinons-les plus en détail.
Journey Title: The first thing you notice is the title and a description of the journey you're viewing. If you are creating a new journey, add a title and description here. You will also see which version of the journey you're viewing. If there is more than one version, you can click to see other versions. We talk more about journey versions later. /Journey Title: La première choseà noter est le titre et une description du parcours que vous affichez. Si vous créez un nouveau parcours, ajoutez un titre et une description ici. Vous verrez également quelle version du parcours vous affichez. S'il existe plus d'une version, vous pouvez cliquer pour voir d'autres versions. Nous parlerons plus tard des versions de journey
Entry Source: This tells Journey Builder the data source for a particular journey. Entry sources include Data Extensions, API events, audiences, CloudPages, Salesforce data, or events. All journeys must begin with an entry source. /Entry Source: Cela indique à Journey Builder la source de données pour un parcours particulier. Les sources d'entrée incluent les extensions de données, les événements d'API, les audiences, les CloudPages, les données Salesforce ou les événements. Toutes les journeys doivent commencer par une source d'entrée.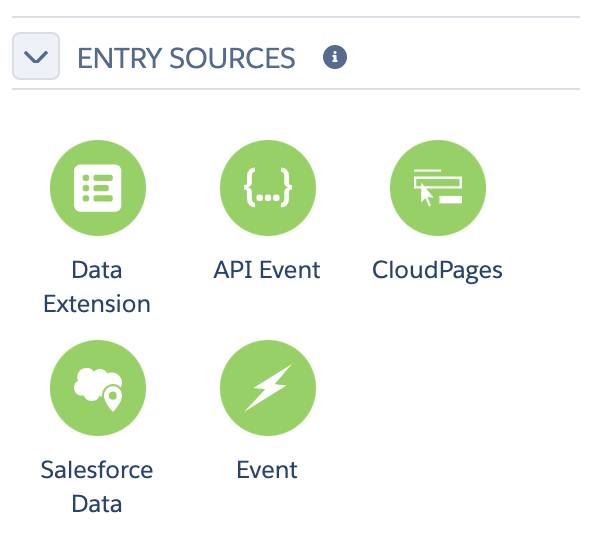 Canvas Activities: These are available message actions, decision points, updates, or a combination of these elements that guide the customer journey until the customer reaches a goal or the endpoint of the journey. /Canvas Activities: il s'agit d'actions de message disponibles, de points de décision, de mises à jour ou d'une combinaison de ces éléments qui guident le parcours du client jusqu'à ce que le client atteigne un objectif ou le point final du parcours.
Message Activity: Includes email, SMS, push notifications, or any other form of content sent to your contacts. /Message Activity: comprend les e-mails, les SMS, les notifications push ou toute autre forme de contenu envoyé à vos contacts.
Advertising Activities: Ad Audience allows you to build an advertising audience in Journey Builder. Ad Campaign lets you create an advertising audience and a simple Facebook advertising campaign without leaving Journey Builder. /Advertising Activities: Ad Audience vous permet de créer une audience publicitaire dans Journey Builder. Ad Campaign vous permet de créer une audience publicitaire et une simple campagne publicitaire Facebook sans quitter Journey Builder.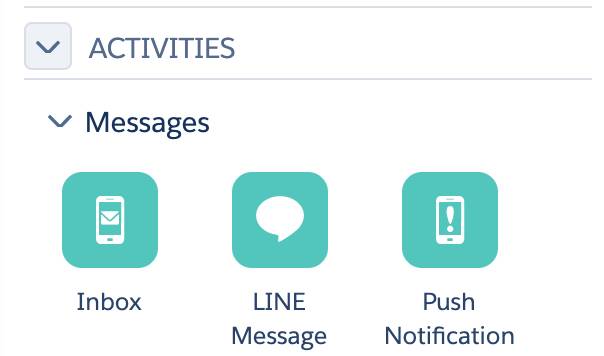 Flow Control Activities: Flow control activities are how you manage your contact's experience through the journey. /Activités de contrôle de flux: les activités de contrôle de flux vous permettent de gérer l'expérience de votre contact tout au long du parcours.


A Wait activity pauses your customer between activities for a certain amount of time before they move to the next activity. During Wait activities, Journey Builder evaluates customers to see if they have met a goal, reached criteria for a decision split, or engaged with a message. /Une activité Wait met votre client en pause entre les activités pendant un certain temps avant de passer à l'activité suivante. Au cours des activités d'attente, Journey Builder évalue les clients pour voir s'ils ont atteint un objectif, atteint les critères d'une décision partagée ou s'ils ont participé à un message.
Use Split activities to customize the path a customer takes based on their interactions with messages or other actions, either randomly or by using Einstein. /Utilisez les activités Split pour personnaliser le chemin emprunté par un client en fonction de ses interactions avec des messages ou d'autres actions, de manière aléatoire ou à l'aide d'Einstein.
A Join activity returns contacts to the original path after they've gone through a split activity that separated them from the original path. /Une activité Join ramène les contacts au chemin d'origine après avoir effectué une activité de fractionnement qui les a séparés du chemin d'origine.
Use the Wait Until activity to pause your customer between activities for a period of time set by you. /Utilisez l'activité Wait Until pour mettre votre client en pause entre les activités pendant une période définie par vous.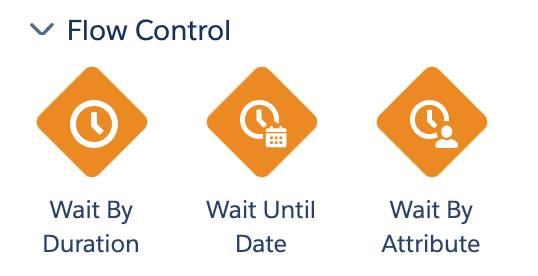 Customer Updates: This activity prompts the Marketing Cloud system to update a contact's information in a data extension. /Customer Updates: cette activité invite le système Marketing Cloud à mettre à jour les informations d'un contact dans une extension de données.

Sales & Service Cloud Activities: Use these activities to interact with Salesforce Sales & Service Cloud within Journey Builder. These activities are only available in accounts that have the Marketing Cloud Connector installed./Sales & Service Cloud Activities: utilisez ces activités pour interagir avec Salesforce Sales & Service Cloud dans Journey Builder. Ces activités ne sont disponibles que dans les comptes sur lesquels Marketing Cloud Connector est installé.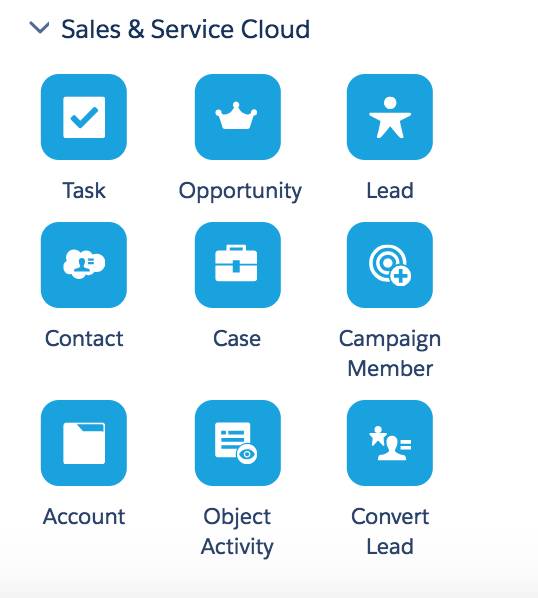 Journey Canvas: The Journey Canvas is where you drag and drop canvas activities to build the customer journey—in other words, where the magic happens. We go into more detail when we create a journey in the Manage Campaigns with Journey Builder trail. /Journey Canvas: Journey Canvas est l'endroit où vous faites glisser et déposez des blocs activités pour construire le parcours client – en d'autres termes, là où la magie opère. Nous allons plus en détail lorsque nous créons un parcours dans le trail "Gérer les campagnes avec Journey Builder".

Journey Builder Toolbar: Finally, the toolbar shows the status of the journey you're viewing. This is also where you manage the journey you've created. /Journey Builder Toolbar: enfin, la barre d'outils affiche l'état du parcours que vous visualisez. C'est également là que vous gérez la journey que vous avez créé.
Undo, redo, copy, and paste actions related to the journey plan. /Annulez, refaites, copiez et collez les actions liées au plan de la journey.
Toggle open or close the sidebar containing canvas activities. /Permet d'ouvrir ou de fermer la barre latérale contenant les blocs d'activités .
Turn on guidance. /Activez la marche à suivre.
Set a goal. /Fixer un objectif.
Define exit criteria. /Définissez les critères de sortie.
Edit settings. /Modifier les paramètres.
Save, validate, test, and activate the journey. /Enregistrez, validez, testez et activez le parcours

We go into more detail when we create a journey in the Journey Builder Campaigns module. /Nous allons plus en détail lorsque nous créons un parcours dans le module Campagnes Journey Builder.
View an Existing Journey /Afficher un parcours existant
Now let's take a look at the journey canvas when a journey is running or stopped. /Regardons maintenant le canevas du parcours lorsqu'un parcours est en cours ou à l'arrêt.

The primary difference between a stopped journey and a running one is that your builder containing entry event and canvas activity options is hidden. However, now you can see how many contacts completed each step in the journey (1). The toolbar (2) now provides the option to stop the journey if it is running, or start a new version of the journey. You also have the ability to check the overall health of your journey. /La principale différence entre un parcours arrêté et un parcours en cours est que votre générateur contenant les options d'événement d'entrée et d'activité de canevas est masqué. Cependant, vous pouvez maintenant voir combien de contacts ont terminé chaque étape de la journey (1). La barre d'outils (2) offre désormais la possibilité d'arrêter le parcours s'il est en cours, ou de démarrer une nouvelle version du trajet. Vous avez également la possibilité de vérifier l'état de santé général de votre journey.
Now that you're familiar with the Journey Builder app, you can begin putting the principles you learned in the Customer Journey Basics module to work. /Maintenant que vous êtes familiarisé avec l'application Journey Builder, vous pouvez commencer à appliquer les principes que vous avez appris dans le module Principes de base du parcours client.
Resources /Ressources
Copyright
Rights of ALBERT EINSTEIN are used with permission of The Hebrew University of Jerusalem. Represented exclusively by Greenlight. /Les droits d'ALBERT EINSTEIN sont utilisés avec la permission de l'Université hébraïque de Jérusalem. Représenté exclusivement par Greenlight.