Learning Objectives /Objectifs de formation
After completing this unit, you'll be able to: /Une fois cette unité terminée, vous pourrez :
Define segmentation. /Définir la segmentation
Explain the importance of segmentation in a successful email marketing campaign. /Expliquer l'importance qu'occupe la segmentation dans la réussite d'une campagne de marketing par e-mail
List common ways to segment subscribers. /Citer les méthodes couramment utilisées pour segmenter des abonnés
Getting It Right /Présentation de la segmentation
"Right message, right person, right time" is the email marketers' mantra. /« Le bon message, à la bonne personne, au bon moment » est le mantra des spécialistes du marketing par e-mail.
And by segmenting your audiences, you can ensure you get the right message to the right person. /En segmentant vos audiences, vous pouvez vous assurer que vous transmettez le bon message à la bonne personne.
But what exactly is segmentation? Ahh, we're glad you asked. /Mais qu'est-ce que la segmentation, au juste ? Excellente question !
Segmentation is the slicing and dicing of your subscriber lists so that you can target individuals with specific, relevant, and timely messages—messages that stand out in in-boxes and grab your customers' attention. /La segmentation consiste à disséquer vos listes d'abonnés afin que vous puissiez cibler des personnes avec des messages spécifiques, pertinents et opportuns, qui se démarquent dans les boîtes de réception et attirent l'attention de vos clients.
Make the Most of the Information Subscribers Share /Exploitation efficace des informations partagées par les abonnés
In a report on connected customers, Salesforce found that some 63% of millennials, 58% of Gen Xers, and 46% of baby boomers are willing to share personal information with companies if they get personalized offers or discounts in return. /Dans un rapport sur les clients connectés, Salesforce a révélé qu'environ 63 % de la génération Y, 58 % de la génération X et 46 % des baby-boomers acceptaient de partager des informations personnelles avec les entreprises si elles recevaient des offres personnalisées ou des remises en retour.
Collecting data isn't a one-way street. There's an element of give-and-take in which marketers have a key role to play. /La collecte de données n'est pas une voie à sens unique. Elle implique une sorte de relation donnant-donnant, dans lequel les spécialistes du marketing ont un rôle clé à jouer.
Customers expect content to be tailored to their exact needs. So what happens when email content, for example, isn't personalized?/Les clients s'attendent à ce que le contenu qui leur est présenté soit adapté à leurs besoins. Quelle est donc leur réaction lorsque le contenu d'un e-mail, par exemple, n'est pas personnalisé ?
For starters, 52% of customers say they find somewhere else to go. That may seem unfair and disappointing, but the marketing landscape is no longer in the hands of marketers. /Pour commencer, 52 % d'entre eux déclarent se diriger alors vers une autre entreprise. Cela peut sembler injuste et décevant, mais les spécialistes du marketing n'ont plus toutes les cartes en main.
It's filled with and influenced by customers who thrive on technology and who use it to find companies that fit their needs. /Le marketing s'inscrit désormais dans un contexte où des clients omniprésents et dictant les règles du jeu tirent pleinement parti de la technologie et l'utilisent pour trouver des entreprises qui répondent à leurs besoins.
What's even more striking is that only 23% of marketers say they feel extremely satisfied with their ability to use their customer data to create more relevant experiences./Ce qui est encore plus frappant, c'est que seulement 23 % des spécialistes du marketing déclarent être entièrement satisfaits de leur capacité à utiliser les données de leurs clients pour créer des expériences plus pertinentes.
Clearly, they need a way to do better. /De toute évidence, ils ont besoin de trouver un moyen de faire mieux.
Does It Work? /Efficacité de la segmentation
But before you start segmenting, you may be wondering, does it work? /Vous êtes sur le point de commencer à utiliser la segmentation. Toutefois, peut-être vous demandez-vous s'il s'agit d'un outil marketing réellement efficace ?
It does. In fact, according to marketing research, not only does email audience segmentation ensure you're delivering the right message to the right person at the right time, it also leads to: /En un mot : oui. D'ailleurs, selon des études de marché, la segmentation de l'audience vous garantit non seulement de transmettre le bon message, à la bonne personne, au bon moment, mais aussi :
Higher click-through rates /Un taux de clics plus élevé
Higher conversion rates /Un taux de conversion de pistes amélioré
Better email deliverability /Une meilleure délivrabilité des e-mails
Lower unsubscribe rates /Une réduction du taux de désabonnement
Higher-quality email analytics /Une qualité supérieure des analyses relatives aux e-mails
Yet, remarkably, a lot of companies don't do it. If you aren't, there are a ton of reasons why it's time to start. /Pourtant, étonnamment, beaucoup d'entreprises ne suivent toujours pas cette pratique. Si c'est votre cas, les raisons pour lesquelles il est temps de vous y mettre ne manquent pas.
Common Ways to Segment Your Audience /Méthodes courantes de segmentation de l'audience
With Marketing Cloud, the criteria you can use to segment your audience is virtually endless. /Marketing Cloud vous offre des possibilités quasiment illimitées pour segmenter votre audience à l'aide de critères.
Here are some common ways that companies segment their data. /Voici quelques-uns de ceux que les entreprises emploient couramment pour segmenter leurs données :
Interests: What interests have your subscribers indicated in their profiles? /Centres d'intérêt : quels centres d'intérêt vos abonnés ont-ils indiqué dans leur profil ?
Behavior: What are your subscribers viewing or clicking on? /Comportement : que visualisent vos abonnés et sur quoi cliquent-ils ?
Purchase history: What did they recently buy? What have they left in their shopping carts? /Historique d'achats : qu'ont-ils acheté récemment ? Qu'ont-ils laissé dans leurs paniers d'achat ?
Point-of-sale: Are your customers buying in the store, online, or both? /Point de vente : vos clients achètent-ils en magasin, en ligne ou les deux ?
Communication preferences: Do they prefer email, social media, mobile messaging, ads, or some combination? /Préférences de communication : préfèrent-ils les e-mails, les réseaux sociaux, les messages mobiles, les publicités ou une combinaison de plusieurs de ces modes de communication ?
Subscriber status: Are they new subscribers? Are they consistently viewing and buying? Have they become inactive recently or been inactive for a long time? /Statut de l'abonné : sont-ils de nouveaux abonnés ? Réalisent-ils des achats et visitent-ils votre site sur une base régulière ? Sont-ils devenus inactifs récemment ou le sont-ils depuis longtemps ?
Previous email interactions: Have they opened your emails? Clicked links in the emails? What time of day did they do it? /Précédentes interactions par e-mail : ont-ils ouvert vos e-mails ? Ont-ils cliqué sur les liens y figurant ? À quelle heure l'ont-ils fait ?
Gender /Genre
Age /Ancienneté
Geographic location /Emplacement géographique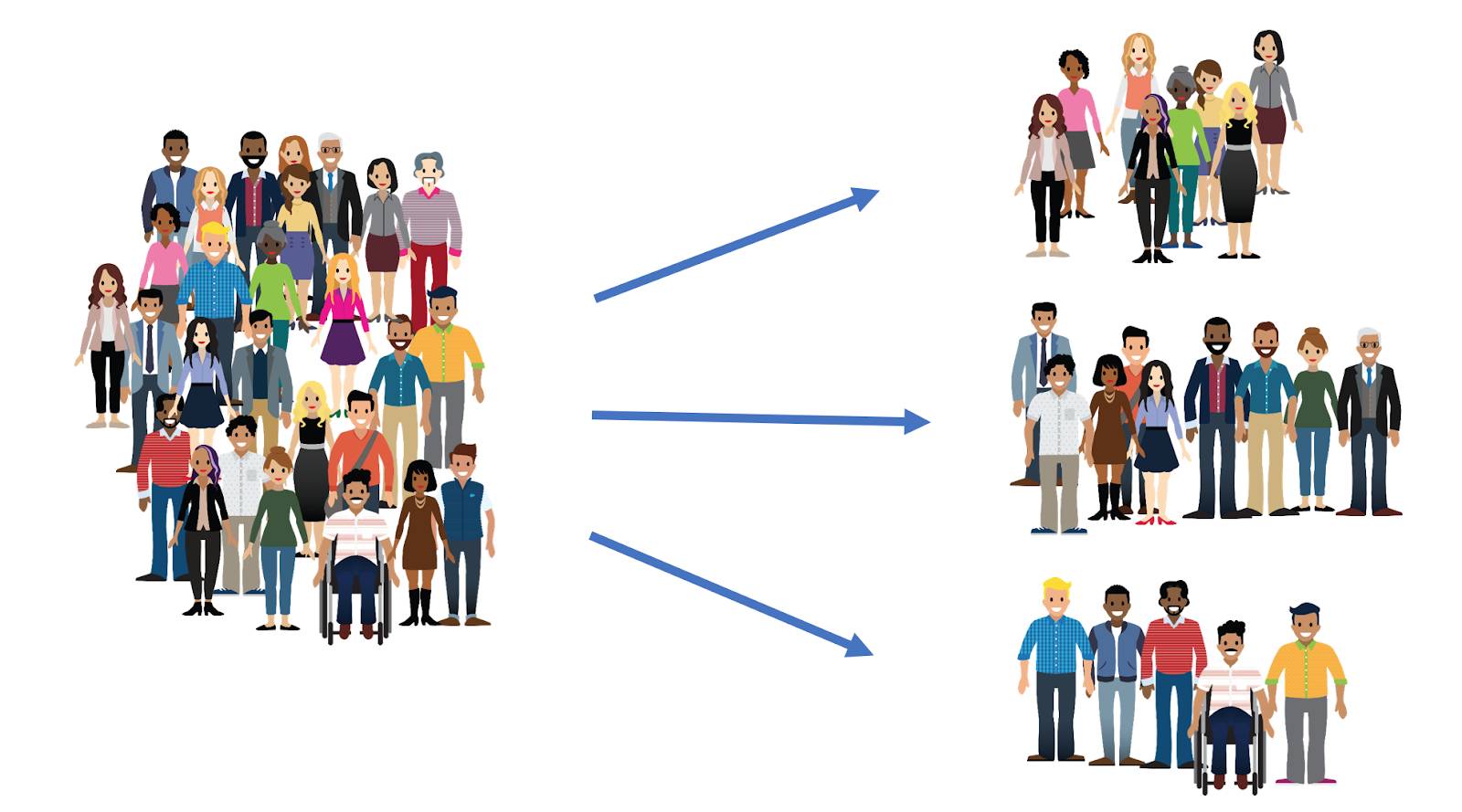 You may want to consider segmenting your audiences based on predictive intelligence, also called machine learning. /Il peut être judicieux de segmenter vos audiences sur la base de l'intelligence prédictive, également appelée apprentissage machine.
This is the idea that you can use patterns in data to predict what your subscribers are likely to do and segment them based on that, rather than focusing solely on what your subscribers have done in the past. /Ce mode de segmentation repose sur l'idée sur vous pouvez utiliser des tendances dans les données pour prédire ce que vos abonnés sont susceptibles de faire et ainsi les classifier sur cette base, plutôt que de vous concentrer uniquement sur ce qu'ils ont fait par le passé.
Segmenting in this way offers unique benefits. You can achieve more sophisticated segmentation. You can get the benefit of insightful data analysis without having to hire data analysts, and you can minimize waste and achieve a better return on investment, because you can predict effective messaging without necessarily having to test it ahead of time. /Ce type de segmentation offre des avantages uniques. Premièrement, elle est plus élaborée. Elle vous permet également de disposer d'analyses de données pertinentes sans avoir à embaucher d'analystes de données. Enfin, elle vous aide à optimiser votre budget et à obtenir un meilleur retour sur investissement, car vous pouvez prédire quels envois de messages seront efficaces sans avoir à les tester à l'avance.
What's important to remember is, you can't do audience segmentation with—or identify patterns in—data that you don't collect. So, collect, collect, collect! The more information you gather, the more opportunity you have to tailor your messages so they are just right. /Toutefois, rappelez-vous que sans données à votre disposition, vous ne pourrez pas segmenter votre audience (ni identifier de tendances). Collectez donc autant de données que possible ! Plus vous recueillerez d'informations, plus vous aurez la possibilité d'ajuster la pertinence de vos messages.
But don't let a lack of data stop you from getting started. Even a data point as simple as geography is a good place to start. /Toutefois, ne laissez pas un manque de données vous empêcher de vous lancer. Des données aussi simples que l'emplacement géographique peuvent suffir à démarrer.
Here are some good questions to ask yourself as you get further into audience segmentation. /Lorsque vous segmenterez votre audience, il pourra s'avérer judicieux de vous poser les questions suivantes :
Does each segment have its own unique needs? (Otherwise it's not a segment!) /Chaque segment a-t-il des besoins qui lui sont propres ? (un segment doit obligatoirement répondre à ce critère !)
Can you contact the segment through your marketing efforts? /Pouvez-vous entrer en relation avec le segment via vos initiatives marketing ?
Are the people in the segment likely to respond? /Les membres du segment sont-ils susceptibles de répondre à vos sollicitations ?
Is your return likely to be worth the investment? /Le retour sur investissement sera-t-il suffisant pour assurer la rentabilité ?
Does your segmentation align to the values and goals of your company or product? /Votre segmentation va-t-elle dans le sens des valeurs et des objectifs de votre entreprise ou de votre produit ?
Finally, make sure you continuously measure the effectiveness of the segments you choose with engagement metrics including open rate, click rate, conversion rate, and unsubscribes or opt-outs. /Enfin, veillez à mesurer en permanence l'efficacité des segments que vous choisissez à l'aide de métriques d'engagement telles que le taux d'ouverture, le taux de clics, le taux de conversion et le nombre de désinscriptions ou de désabonnements.
So now you've got the basics of audience segmentation. Let's move on to data organization. /Vous connaissez désormais les fondamentaux de la segmentation d'audience. Intéressons-nous maintenant aux pages d'application.
Resources /Ressources