Learning Objectives /Objectifs de formation
After completing this unit, you'll be able to: /Une fois cette unité terminée, vous pourrez :
Define Journey Builder. /Définir Journey Builder.
Manage user roles and permissions. /Gérer les rôles et les autorisations des utilisateurs.
Explain how building a multi-channel journey is dependent on a user's access to those channels. /Gérer les rôles et les autorisations des utilisateurs.
Introduction /Introduction
Journey Builder is Marketing Cloud's premier campaign planning and execution tool. It's what empowers you, a marketer, to design and automate campaigns that guide customers through a series of interactions with your brand. Journey Builder is: /Journey Builder est le premier outil de planification et d'exécution de campagnes de Marketing Cloud. C'est ce qui vous permet, en tant que responsable marketing, de concevoir et d'automatiser des campagnes qui guident les clients à travers une série d'interactions avec votre marque. Journey Builder c'est:
Multi-channel: Communicates seamlessly across email, SMS, push notifications, ads, landing pages, and apps so your customers get the right information in the right place. /Multicanal: communique en toute transparence par e-mail, SMS, notifications push, annonces, pages de destination et applications afin que vos clients obtiennent les bonnes informations au bon endroit.
Responsive: Tailors the customer journey based on real-time events like purchases, mobile app downloads, reading an email, or closed service cases. /Réactif: adapte le parcours client en fonction d'événements en temps réel tels que des achats, des téléchargements d'applications mobiles, la lecture d'un e-mail ou des cas de service fermés.
Adaptive: Continually adjusts customers' paths based on their current or predicted behavior. /Adaptatif: ajuste en permanence les chemins d'accès des clients en fonction de leur comportement actuel ou prévu.
At Journey Builder's foundation is the customer journey, which is a series of steps your customer goes through during a particular interaction with your organization. /La fondation de Journey Builder est le parcours client, qui est une série d'étapes que votre client traverse lors d'une interaction particulière avec votre organisation.
Interactions can include: clicking an ad, reading an email, making a purchase, returning an item in the store, talking to a service agent on the phone, downloading a whitepaper, or redeeming a coupon. /Les interactions peuvent inclure: cliquer sur une annonce, lire un e-mail, effectuer un achat, retourner un article dans le magasin, parler à un agent de service par téléphone, télécharger un livre blanc ou échanger un coupon.
If you haven't already done so, learn more about the connected customer, the importance of personalized customer journeys, and developing a more generalized journey strategy by checking out the module: Customer Journey Basics. /Si vous ne l'avez pas déjà fait, apprenez-en plus sur le client connecté, sur l'importance des parcours client personnalisés et sur le développement d'une stratégie de trajet plus généralisée en consultant le module: Customer Journey Basics.
Before You Start /Avant de commencer
Before you can use this tool, make sure your Marketing Cloud account is provisioned to use Journey Builder. If you need help, contact your Marketing Cloud account manager for more information. /Avant de pouvoir utiliser cet outil, assurez-vous que votre compte Marketing Cloud est configuré pour utiliser Journey Builder. Si vous avez besoin d'aide, contactez votre responsable de compte Marketing Cloud pour plus d'informations.
In this module, we assume you are a Marketing Cloud administrator with access to Journey Builder. If you're not an administrator for Marketing Cloud, that's OK. Read along to learn how your administrator would take the steps in a production org. Don't try to follow these steps in your Trailhead Playground. Marketing Cloud isn't available in the Trailhead Playground. /Dans ce module, nous supposons que vous êtes un administrateur Marketing Cloud ayant accès à Journey Builder. Si vous n'êtes pas administrateur de Marketing Cloud, aucun problème. Lisez la suite pour savoir comment votre administrateur suivrait les étapes d'une organisation de production. N'essayez pas de suivre ces étapes dans votre Trailhead Playground. Marketing Cloud n'est pas disponible dans Trailhead Playground.
Overview of the Setup Tab /Présentation de l'onglet Configuration
This is where you, awesome admin that you are, set up and configure components that marketers can start using right away to create and manage meaningful multi-channel customer journeys. /C'est là que vous, super administrateur que vous êtes, installez et configurez des composants que les spécialistes du marketing peuvent commencer à utiliser immédiatement pour créer et gérer des parcours clients multicanaux significatifs.
Determine Roles and Permissions /Déterminer les rôles et les autorisations
To set permissions, let's take a look at general account settings. There are two kinds of access: roles and permissions. /Pour définir les autorisations, examinons les paramètres généraux du compte. Il existe deux types d'accès: les rôles et les autorisations.
Roles are based on the type of user and the tasks they'll be completing, such as importing data, assigning user permissions, or deleting events or contacts. Marketing Cloud admins can apply these roles to a single user or an entire business unit. /Les rôles sont basés sur le type d'utilisateur et les tâches à accomplir, telles que l'importation de données, l'attribution d'autorisations utilisateur ou la suppression d'événements ou de contacts. Les administrateurs Marketing Cloud peuvent appliquer ces rôles à un seul utilisateur ou à une unité commerciale entière.
Marketing Cloud includes several standard user roles: /Marketing Cloud comprend plusieurs rôles utilisateur standard:
Administrator /Administrateur
Analyst /Analyste
Content Creator /Créateur de contenu
Data Manager /Manager de données
Distributed Sending /Envoi distribué
Marketing Cloud Administrator /Administrateur Marketing Cloud
Marketing Cloud Channel Manager /Gestionnaire de canaux Marketing Cloud
Marketing Cloud Content Editor/Publisher /Éditeur / éditeur de contenu Marketing Cloud
Marketing Cloud Security Administrator /Administrateur de la sécurité Marketing Cloud
Marketing Cloud Viewer /Visionneuse Marketing Cloud
Permissions control user access based on Marketing Cloud applications. You assign these settings at the application level. For example, if your creative team is completely separate from your digital marketing team, you can give users on the creative team access to Content Builder, but not to Contact Builder. /Les autorisations contrôlent l'accès des utilisateurs en fonction des applications Marketing Cloud. Vous affectez ces paramètres au niveau de l'application. Par exemple, si votre équipe de création est complètement séparée de votre équipe de marketing numérique, vous pouvez donner aux utilisateurs de l'équipe de création un accès à Content Builder, mais pas à Contact Builder.
Permissions can be set to: /Les autorisations peuvent être définies sur:
Allow: User has access to the application or functionality. /Autoriser: l'utilisateur a accès à l'application ou à la fonctionnalité.
Deny: User does not have access to the application or functionality. /Refuser: l'utilisateur n'a pas accès à l'application ou à la fonctionnalité.
Not Set: User permission for this application or functionality is not explicitly granted nor denied, but defaults to Deny. /Non défini: l'autorisation utilisateur pour cette application ou cette fonctionnalité n'est pas explicitement accordée ni refusée, mais par défaut, elle est Refuser.
Journey Builder Permission choices include: /Les choix d'autorisation de Journey Builder incluent:
General Access, View: If this permission is allowed and Automation Create, Edit is denied, you can view Journey Builder. /Accès général, affichage: si cette autorisation est autorisée et que la création d'automatisation, la modification est refusée, vous pouvez afficher Journey Builder.
Automation Create, Edit: If this permission is allowed and General Access, View is allowed, you can create, edit, and publish journeys. /Automatisation Créer, modifier: si cette autorisation est autorisée et si l'accès général, Afficher est autorisé, vous pouvez créer, modifier et publier des parcours.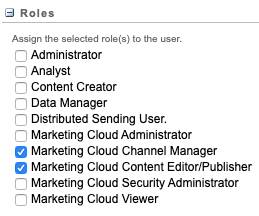 Depending on the variety of work a user performs, you might need to assign both roles and permissions. Customize permissions for roles or individuals to grant complete access to create, edit, and publish journeys; allow limited access to view journeys; or to deny access. /Selon la variété du travail effectué par un utilisateur, vous devrez peut-être attribuer à la fois des rôles et des autorisations. Personnalisez les autorisations pour les rôles ou les individus afin d'accorder un accès complet pour créer, modifier et publier des parcours; permettre un accès limité pour visualiser les parcours; ou pour refuser l'accès.
Provide Journey Builder Access to a User /Donner un accès Journey Builder à un utilisateur
Let's walk through the steps to assign permissions to your Marketing Cloud users. /Passons en revue les étapes permettant d'attribuer des autorisations à vos utilisateurs Marketing Cloud.
Hover over Welcome [your username] and click Setup from the dropdown menu. /Survolez Welcome [votre nom d'utilisateur] et cliquez sur Setup dans le menu déroulant.
Click the Users menu and select Users. /Cliquez sur le menu Users et sélectionnez Users.
Select the user. /Sélectionnez user.
Click Manage Roles. /Cliquez sur Manage Roles
Under Roles, click Edit Roles. /Sous Rôles, cliquez sur Edit Roles.
Select Marketing Cloud Channel Manager or Marketing Cloud Content Editor/Publisher. /Sélectionnez Marketing Cloud Channel Manager ou Marketing Cloud Content Editor/Publisher
Click Save. /Cliquez sur Save.
Click Edit Permissions and select the checkboxes next to the Journey Builder permissions to assign. /Cliquez sur Edit Permissions et cochez les cases en regard des autorisations Journey Builder à attribuer.
Click Save. /Cliquez sur Save.
Note /Remarque
Unless a permission is specifically granted, it defaults to Deny.
Now that you have assigned roles and permissions for Journey Builder users, your marketers can begin using this powerful tool to create and manage responsive, multi-channel customer journeys. /Maintenant que vous avez attribué des rôles et des autorisations aux utilisateurs de Journey Builder, vos spécialistes du marketing peuvent commencer à utiliser cet outil puissant pour créer et gérer des parcours clients réactifs et multicanaux.
Resources /Ressources