Learning Objectives /Objectifs de formation
After completing this unit, you'll be able to: /Une fois cette unité terminée, vous pourrez :
Access and describe Pardot account settings. /Accéder aux paramètres du compte Pardot et les décrire
Set up users /Configurer des utilisateurs
Configure single sign on with Salesforce. /Configurer l'authentification unique avec Salesforce
Set up custom prospect fields. /Définir des champs personnalisés pour les prospects
Connect Twitter to Pardot /Connecter Twitter à Pardot
All About Administration /Tout savoir sur l'administration

Meet Leung Chen, the Marketing Manager at Cloudy Consulting. She's been tapped to implement Pardot at Cloudy Consulting thanks to her great performance review last quarter. She's got lots of experience organizing in-person events and client nurture programs and is ready to bring those skills to Pardot! She will be the Pardot Administrator. /Voici Leung Chen, responsable marketing chez Cloudy Consulting. Suite à son excellent bilan de performances au trimestre dernier, on lui a confié la mission de mettre en œuvre Pardot chez Cloudy Consulting. Elle possède une riche expérience dans l'organisation d'événements sociaux et de programmes de fidélisation des clients, et elle est prête à exploiter ces talents avec Pardot ! Elle sera l'administratrice Pardot. 
Pardot Account Settings /Paramètres du compte Pardot
Leung's first task is to get under the hood of Pardot and review her account settings. Pardot account settings contain all sorts of helpful information for administering your Pardot account and are a natural place for Leung to start exploring. /Pour Leung, la première étape consiste à examiner Pardot et consulter les paramètres de son compte. Les paramètres du compte Pardot contiennent toutes sortes d'informations utiles pour l'administrer et, pour Leung, il n'y a pas de meilleur endroit pour entamer son exploration.
Let's take a stroll through account settings and check out some features along the way. /Parcourons les paramètres du compte en nous attardant sur quelques fonctionnalités en chemin.
Click the Pardot Settings tab. Here you see your account information as well as the contact information for the person who's notified about changes to Pardot. The Product and Service Notifications table in your account settings lets you choose different points of contact for each type of notification. See more information about account settings in the Account Settings Reference. /Cliquez sur l'onglet Paramètres Pardot. Cet écran contient des informations sur votre compte, ainsi que les coordonnées de la personne qui reçoit une notification en cas de modification dans Pardot. Le tableau Notifications produits et services des paramètres de votre compte vous permet de choisir différents points de contact pour chaque type de notification. Vous trouverez d'autres informations sur les paramètres de compte dans la Référence sur les paramètres de compte.
Click the Usage and Limits tab. This list shows all your account's available features, usage, limits, and utilization. /Cliquez sur l'onglet Utilisation et limites. Cette liste présente toutes les fonctions disponibles de votre compte, leur utilisation, leurs limites et leur emploi.
Click the My Profile tab. This tab shows your profile information and user preferences. Click Edit to make changes to your user information. Click Edit My User Preferences to make changes to your email and app preferences. /Cliquez sur l'onglet Mon profil. Cet onglet présente vos informations de profil et vos préférences utilisateur. Cliquez sur Modifier pour apporter des changements à vos informations utilisateur. Cliquez sur Modifier mes préférences utilisateur pour modifier vos préférences d'e-mail et d'application.

(If applicable) Click the B2B Marketing Analytics tab. The B2B Marketing Analytics tab is where you provision your B2B Marketing Analytics app. /Cliquez sur l'onglet B2B Marketing Analytics (le cas échéant). L'onglet B2B Marketing Analytics vous permet de provisionner votre application B2B Marketing Analytics.
Create a Pardot User /Création d'un utilisateur Pardot
Leung is highly in demand at Cloudy Computing, so she's juggling a lot of projects. She wants to add one of her teammates to Pardot as a user to help her manage this account. /Leung est très sollicitée chez Cloudy Consulting, et elle jongle avec de nombreux projets. Elle souhaite donc ajouter l'un de ses collègues comme utilisateur dans Pardot pour qu'il l'aide à gérer son compte.
The Cloudy Computing marketing team has several content creators and Leung's tapped one to help with Pardot. She decides to give them the Marketing role, one of Pardot's default user roles. /L'équipe marketing de Cloudy Consulting comprend plusieurs créateurs de contenus. Leung a demandé à l'un d'eux de l'aider sur Pardot. Elle décide de lui attribuer le rôle Marketing, l'un des rôles utilisateur par défaut de Pardot. 
Every Pardot account comes with four user roles: Administrator, Marketing User, Sales Manager, and Sales User. /Chaque compte Pardot comprend au départ quatre rôles utilisateur : Administrateur, Utilisateur marketing, Responsable commercial et Utilisateur commercial.
This makes it easy for Pardot Administrators like Leung to create new users and grant them the correct permission sets. / Les administrateurs Pardot comme Leung peuvent ainsi créer facilement de nouveaux utilisateurs et leur accorder les bons ensembles d'autorisations.
Let's look at how Leung can easily create a new Pardot user with the Marketing role. /Voyons comment Leung crée facilement un nouvel utilisateur Pardot ayant le rôle Marketing.
Navigate to Pardot Settings | User Management | Users. /Rendez-vous dans Paramètres Pardot | Gestion des utilisateurs | Utilisateurs.
Click + Add User. /Cliquez sur + Ajouter un utilisateur.
Enter the user's first and last name. /Saisissez le prénom et le nom de l'utilisateur.
Enter the user's email address. The email address must be unique across all Pardot accounts. /Saisissez l'adresse e-mail de l'utilisateur. L'adresse e-mail doit être unique à l'échelle de tous les comptes Pardot.
To send an activation link to the user, select Send Activation Email. This email prompts the user to choose a password and security question. The activation email expires after 48 hours. /Pour envoyer un lien d'activation à l'utilisateur, sélectionnez Envoyer un e-mail d'activation. Cet e-mail invite l'utilisateur à choisir un mot de passe et une question de sécurité. L'e-mail d'activation expire au bout de 48 heures.
Select the Marketing user role. /Sélectionnez le rôle Utilisateur marketing.
When finished, click Create User. /Quand vous avez terminé, cliquez sur Créer l'utilisateur.
The Recycle Bin /Corbeille
When you delete an asset, it's moved to the recycle bin in your Pardot account. You can restore most assets from the recycle bin but let's look at a few things to consider when using the recycle bin. Let's take a look at those real quick before moving on. /Lorsque vous supprimez une ressource, cette dernière est placée dans la corbeille de votre compte Pardot. Vous pouvez restaurer la plupart des ressources contenues dans la corbeille, mais examinons quelques éléments à prendre en compte lors de l'utilisation de la corbeille. Découvrons-les sans attendre avant de continuer.
Items in the recycle bin don't count toward usage limits. /Les éléments de la corbeille ne sont pas pris en compte dans les limites d'utilisation.
If you delete a campaign, the prospects associated with the campaign remain in the system tagged with the deleted campaign. Before deleting, Pardot warns you if elements associated with the campaign, such as lists, rules, and landing pages, are in use. You can then delete the assets or associate them with another campaign. /Si vous supprimez une campagne, les prospects qui y sont associés restent dans le système balisé avec la campagne supprimée. Avant une suppression, Pardot vous avertit si des éléments associés à la campagne, tels que des listes, des règles et des pages de destination, sont en cours d'utilisation. Vous pouvez ensuite supprimer les ressources ou les associer à une autre campagne.
Admins can permanently delete prospects in the recycle bin. Pardot no longer tracks prospects when they're permanently deleted. /Les administrateurs peuvent supprimer définitivement les prospects se trouvant dans la corbeille. Pardot ne suit plus les prospects lorsqu'ils sont définitivement supprimés.
A deleted prospect is restored when the Salesforce record it's syncing with is undeleted. When you permanently delete a prospect in Pardot, you must delete associated leads and contacts in Salesforce. /Un prospect supprimé est restauré lorsque l'enregistrement Salesforce avec lequel il est synchronisé est restauré. Lorsque vous supprimez définitivement un prospect dans Pardot, vous devez supprimer les pistes et les contacts associés dans Salesforce.
Tags are deleted permanently and don't appear in the recycle bin. /Les balises sont supprimées définitivement et n'apparaissent pas dans la corbeille.
Content files are permanently deleted and cannot be undeleted, but they are listed in the recycle bin. /Les fichiers de contenu sont supprimés définitivement et ne peuvent pas être restaurés, mais ils sont répertoriés dans la corbeille.
When a prospect is deleted, the record is moved to the Pardot recycle bin. From the recycle bin, you can either permanently delete or restore the prospect. /Lorsqu'un prospect est supprimé, l'enregistrement est placé dans la corbeille Pardot. Vous pouvez supprimer définitivement ou restaurer le prospect depuis la corbeille.
Certain activities that either you or the system initiates also restore a prospect. If you feel you want to permanently delete a prospect in the recycle bin, you should consider a few things before doing that.  / Certaines activités que vous ou le système initiez restaurent également un prospect. Voici quelques points à prendre en compte si vous souhaitez supprimer définitivement un prospect de la corbeille : 
When a prospect is permanently deleted, the prospect is deleted from the recycle bin, and Pardot doesn't retain any information about the prospect. There is no way to tell which prospects have been deleted, and data cannot be restored. /Lorsqu'un prospect est définitivement supprimé, le prospect est supprimé de la corbeille et Pardot ne conserve aucune information sur ce prospect. Il n'y a aucun moyen de savoir quels prospects ont été supprimés et les données ne peuvent pas être restaurées.
Associated leads and contacts must be deleted from Salesforce before deleting the prospect in Pardot. /Les pistes et les contacts associés doivent être supprimés de Salesforce avant de supprimer le prospect dans Pardot.
Deleting prospects removes all associated engagement data and impacts all reporting. /La suppression de prospects supprime aussi toutes les données d'engagement associées et affecte tous les rapports.
If the prospect is associated with a person account, all personally identifiable information is removed from the Pardot account record. /Si le prospect est associé à un compte personnel, toutes les informations personnellement identifiables sont supprimées de l'enregistrement de compte Pardot.
Deleting a prospect doesn't prevent the prospect from being created again. For example, a prospect can submit a form or be re-created manually. /Il est possible de recréer un prospect après l'avoir supprimé. Par exemple, un prospect peut soumettre un formulaire ou être recréé manuellement.
Admins can permanently delete prospects in the recycle bin. Pardot no longer tracks prospects when they're permanently deleted./Les administrateurs peuvent supprimer définitivement les prospects se trouvant dans la corbeille. Pardot ne suit plus les prospects lorsqu'ils sont définitivement supprimés.
It can take up to 24 hours for a deletion to complete. Pardot will email you once the process is finished.  /La suppression peut prendre jusqu'à 24 heures. Pardot vous enverra un e-mail une fois le processus terminé.
Add Custom Fields /Ajout de champs personnalisés
Pardot comes with a large number of ready-to-use default fields, but you may need to capture other types of information. /Pardot est fourni avec un grand nombre de champs par défaut prêts à l'emploi, mais vous aurez peut-être besoin de consigner d'autres types d'informations.
For example, you may have some fields in Sales Cloud that you want to also have in Pardot, and then sync the data between the two systems. To do this, activate your Salesforce connector, and then create a custom field in Pardot for each Sales Cloud field you'd like to map. /Par exemple, il peut être pratique de retrouver dans Pardot des champs que vous avez dans Sales Cloud, pour ensuite synchroniser les données entre les deux systèmes. Pour ce faire, activez votre connecteur Salesforce, puis créez un champ personnalisé dans Pardot pour chaque champ de Sales Cloud que vous souhaitez mapper.
Custom fields are available across all your Pardot forms, automation and segmentation rules, and dynamic lists. /Les champs personnalisés sont disponibles dans tous les formulaires Pardot, dans les règles d'automatisation et de segmentation et dans les listes dynamiques
Leung is planning a client event and needs to create a custom field at the prospect level to record RSVPs, but does not need to sync this information back to Salesforce. She'll use the responses later to send out thank you emails.  /Leung planifie un événement client et doit créer un champ personnalisé dans les prospects pour enregistrer les réponses aux invitations, mais elle n'a pas besoin de synchroniser cette information vers Salesforce. Les réponses lui serviront plus tard à envoyer des e-mails de remerciements.
To create a custom field: /Pour créer un champ personnalisé : 
Navigate to Pardot Settings | Object and Field Configuration | Prospect Fields. /Accédez à Paramètres Pardot | Configuration d'objet et de champ | Champs de prospect.
Click + Add Custom Field. /Cliquez sur + Ajouter un champ personnalisé.
Enter the RSVP into the Name field. /Saisissez RSVP dans le champ Nom.
Leave the Custom Field ID as automatically generated. /Laissez l'ID de champ personnalisé qui est généré automatiquement.
Leave Sync Behavior as is. For a full list of field settings, see the Prospect Field Settings Reference. /Laissez le Comportement de synchronisation tel quel. Pour une liste complète des paramètres de champ, consultez la Référence sur les paramètres de champs de prospect.
To limit responses, change the field type to Radio Button. /Pour limiter les réponses, changez le type du champ et choisissez Bouton radio.
Under Values, enter the following values for the field: /Dans Valeurs, saisissez les valeurs suivantes :

Yes, I'll be there! /Oui, je serai présent !
No, I can't come. /Non, je ne peux pas venir.

When finished, click Create Custom Field to save your new field. /Quand vous avez terminé, cliquez sur Créer le champ personnalisé pour enregistrer votre nouveau champ.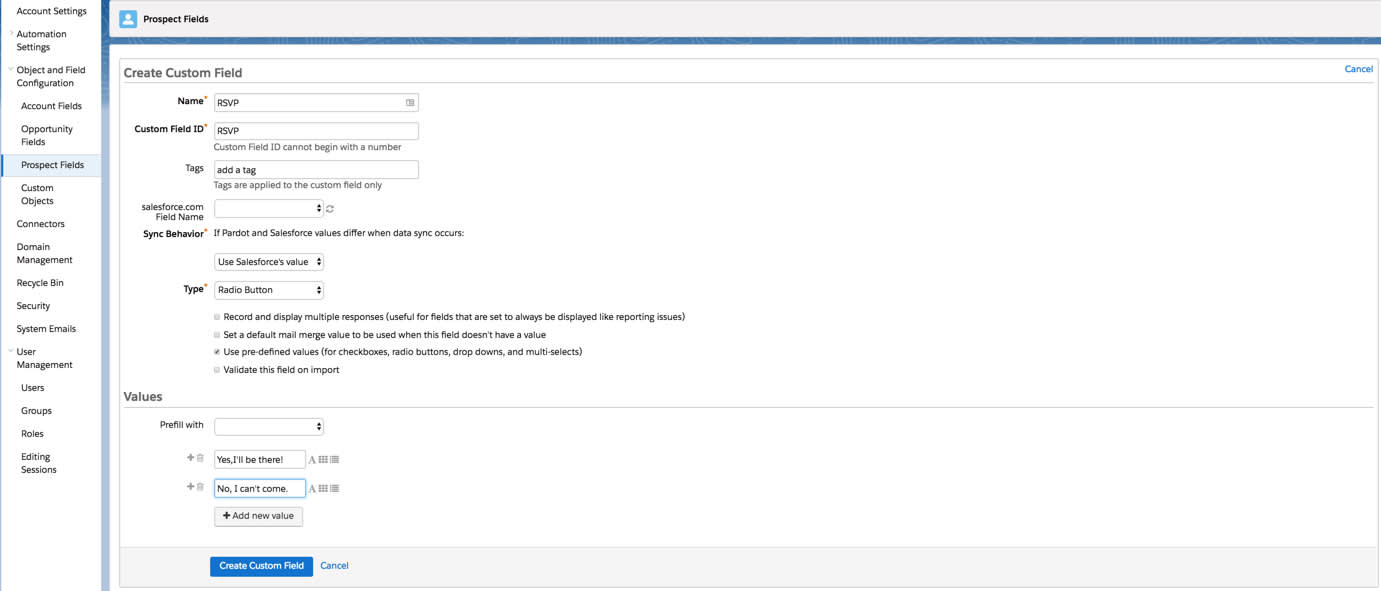 Log In with Salesforce /Connexion avec Salesforce
This section is for those of you who use both Salesforce Lightning App and Pardot and have not enabled Salesforce User Sync. We're about to make your life much easier and show you how to log into Pardot with your existing Salesforce credentials. /Cette section est destinée à ceux d'entre vous qui utilisent à la fois l'application Salesforce Lightning et Pardot, et qui n'ont pas activé Salesforce User Sync. Nous allons vous simplifier considérablement la vie en vous montrant comment vous connecter à Pardot avec vos identifiants Salesforce actuels. 
Note /REMARQUE
If you use Salesforce Lightning App and already have Salesforce User Sync enabled, you'll have access to your Pardot Lightning App just by signing into Salesforce. /Si vous utilisez l'application Salesforce Lightning et que vous avez déjà activé Salesforce User Sync, vous aurez accès à votre application Pardot Lightning en vous connectant simplement à Salesforce.

Log In with Your Salesforce Credentials /Connexion à l'aide d'identifiants Salesforce
As a user, follow these steps to use your Salesforce credentials to log into Pardot: /En tant qu'utilisateur, suivez ces étapes pour vous connecter à Pardot à l'aide de vos identifiants Salesforce :
From the Pardot login screen, click Log in with Salesforce. /Dans l'écran de connexion Pardot, cliquez sur Connexion avec Salesforce.
If you don't have a live Salesforce session, you'll log in to the Salesforce org. /Si vous n'avez pas déjà une session Salesforce ouverte, vous vous connecterez à l'organisation Salesforce.
Click Allow to give Pardot the rights to read data from Salesforce. /Cliquez sur Autoriser pour donner à Pardot l'autorisation de lire les données de Salesforce.
Enter your Pardot username and password to verify that you have access to your Pardot account and click Log In. /Saisissez votre nom d'utilisateur et votre mot de passe Pardot pour vérifier que vous avez accès à votre compte Pardot, puis cliquez sur Connexion.

Connect Pardot to Social /Connexion de Pardot aux réseaux sociaux
Pardot is great on its own, but it's even better when integrated with other products. You can extend Pardot's reach to other third-party applications you already use. /Pardot fonctionne très bien tout seul, mais il est encore plus efficace une fois intégré à d'autres produits. Vous pouvez élargir la portée de Pardot à d'autres applications tierces que vous utilisez déjà.
Back at Cloudy Computing, Leung's been working on her marketing strategy for her upcoming client event. Cloudy Computing has a strong social presence, including a popular Twitter account. /Chez Cloudy Consulting, Leung travaille sur la stratégie marketing de son prochain événement client. Cloudy Consulting bénéficie d'une forte présence sur les réseaux sociaux, et son compte Twitter est particulièrement populaire.
Leung's plan is to connect the Cloudy Computing Twitter account to her Pardot account so she can manage posts and track impressions all from within Pardot. /Le projet de Leung consiste à connecter le compte Twitter de Cloudy Consulting à son compte Pardot afin de gérer les publications et de suivre les impressions générées sans quitter Pardot.  
Let's set up a Twitter connector in Pardot. /Nous allons donc mettre en place un connecteur Twitter dans Pardot. 
Navigate to Pardot Settings | Connectors. /Accédez à Paramètres Pardot | Connecteurs.
Click + Add Connector. /Cliquez sur + Ajouter un connecteur.
Scroll to Social Posting Connectors, and click Twitter. /Faites défiler la liste jusqu'aux Connecteurs de publications sociales et cliquez sur Twitter.
Enter your Twitter username and click Create Connector. /Saisissez votre nom d'utilisateur Twitter et cliquez sur Créer un connecteur.
You'll be redirected to Twitter to log into the account you want to connect. /Vous êtes alors redirigé vers Twitter pour vous connecter au compte souhaité.
After the connector saves, click Verify Now. You will be taken to permissions screens in Twitter. /Une fois le connecteur enregistré, cliquez sur Vérifier maintenant. Vous êtes redirigé vers l'écran des autorisations de Twitter.
Click Authorize app. /Cliquez sur Autoriser l'application.
Click Save Connector. /Cliquez sur Enregistrer le connecteur.

Note /Remarque
First time logging in? We have a new Pardot Setup Assistant ready to walk you through the process of setting up Pardot. /Première connexion ? Nous avons un nouvel assistant de configuration Pardot prêt à vous guider tout au long du processus de configuration de Pardot.
Throughout this unit, you've helped Leung get set up as a Pardot administrator. You've created a new user, created a custom field, set up Log In with Salesforce and added Twitter as a social connector in Pardot. All in a day's great work! /Tout au long de cette unité, vous avez aidé Leung à prendre les commandes de Pardot en tant qu'administratrice. Vous avez créé un nouvel utilisateur et un champ personnalisé, configuré la connexion avec Salesforce et ajouté un connecteur social Twitter dans Pardot. Excellent travail ! 
Resources /Ressources