Learning Objectives/Objectifs de formation
After completing this unit, you'll be able to: /Une fois cette unité terminée, vous pourrez :
Explain how social marketing and Social Studio can help your business./Expliquer comment le marketing social et Social Studio peuvent aider votre entreprise.
Learn the major features of Social Studio./Découvrir les principales fonctionnalités de Social Studio
Welcome to Social Studio/Bienvenue dans Social Studio
Today's marketer knows that social media is the best place to build a strong brand, engage their community, and gather candid product feedback. Social channels provide you with a full view of the customer: sometimes it's customer service complaints, sometimes it's product praise, sometimes it's an anecdote or story—it's important for you to see these! /Le marketeur d'aujourd'hui sait que les réseaux sociaux sont le meilleur endroit pour construire une marque forte, interagir avec leur communauté et recueillir des commentaires sincères sur les produits. Les réseaux sociaux vous offrent une vue complète de la clientèle : qu'il s'agisse de plaintes du service client, d'éloges sur les produits, d'anecdotes ou d'histoires, il est important que vous les voyiez !
The need for timely responses from a social media manager adds more complexity: Because customers can engage directly with you on more than one highly visible social platform, they expect quick response turnaround. /Le besoin de réponses rapides de la part d'un responsable des réseaux sociaux rend les choses plus complexes : Étant donné que les clients peuvent interagir directement avec vous sur plusieurs plate-formes sociales très visibles, ils s'attendent à un délai de réponse rapide.
Social Studio helps you manage all of these challenges and demands. /Social Studio vous aide à gérer tous ces défis et ces exigences.
With Social Studio, you can plan and schedule content among individuals and teams spread across geographical distances, brands, or departments. /Avec Social Studio, vous pouvez planifier et programmer du contenu entre des individus et des équipes qui couvrent différentes zones géographiques, marques ou services.
Plus, after you publish content, you can engage with your customers and compare your post's performance with other content you published./De plus, après avoir publié du contenu, vous pouvez interagir avec vos clients et comparer les performances de votre publication avec d'autres contenus que vous avez publiés.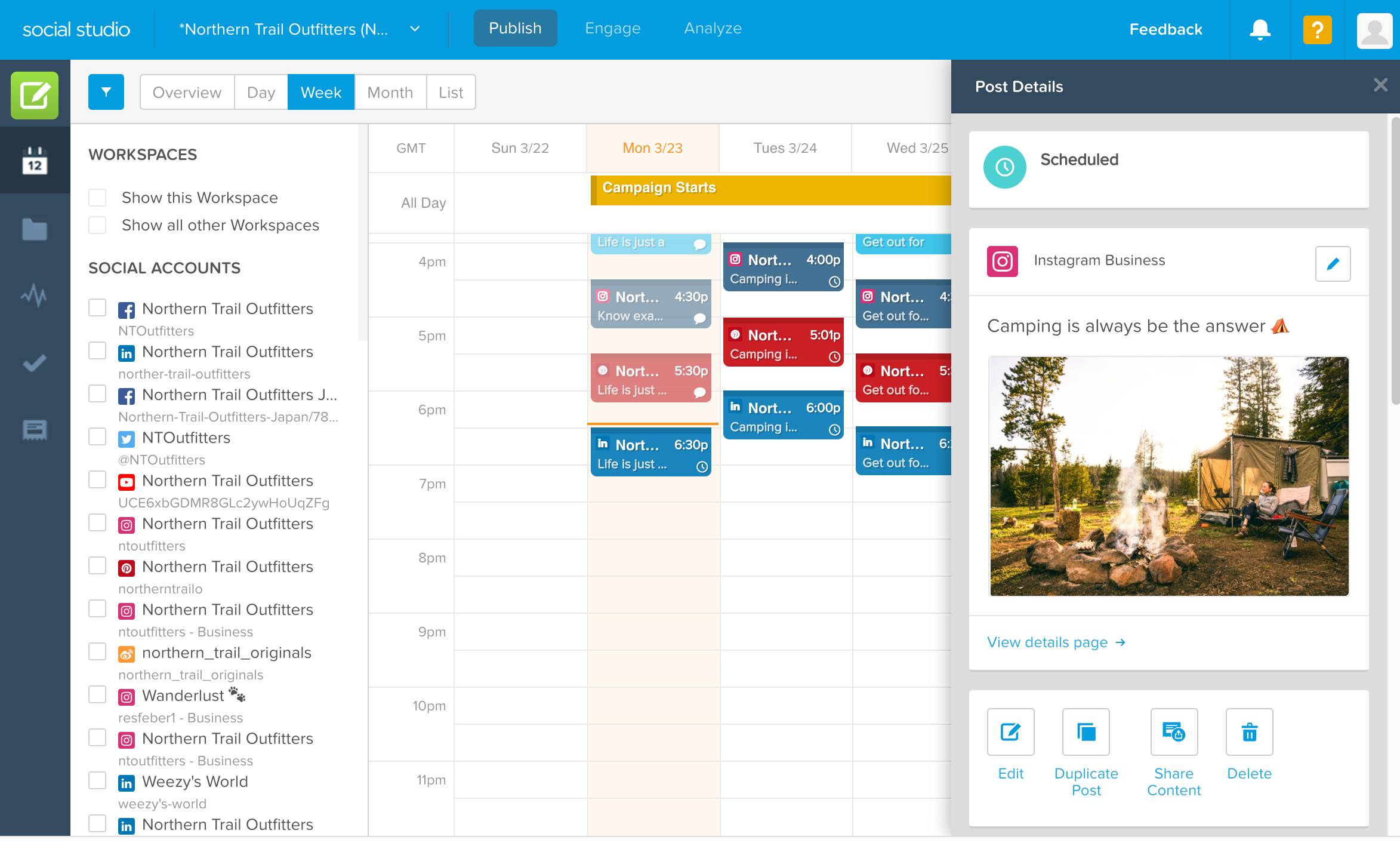 Follow the Leader /Suivez le guide
Let's make it even simpler. Social Studio helps you listen to, track, and respond to your audience. It connects your in-house marketing, sales, and services teams to your customers through popular social channels. /Simplifions encore les choses. Social Studio vous aide à écouter, suivre et répondre à votre audience. Il connecte vos équipes internes de marketing, de vente et de services à vos clients via des réseaux sociaux populaires.
Check out this video for a quick overview of Social Studio. /Regardez cette vidéo pour un aperçu rapide de Social Studio.
Social Studio Actions /Actions Social Studio
With Social Studio you can: /Avec Social Studio, vous pouvez :
Configure workspaces to quickly organize teams by region—either across the world, country, or down the street—and organize workspaces by brand or business function. You can use workspaces to promote collaboration for campaigns, content creation, and publishing./Configurer des espaces de travail pour organiser rapidement des équipes par région, que ce soit dans le monde entier, dans un pays ou dans un quartier, et organiser des espaces de travail par marque ou activité commerciale. Vous pouvez utiliser des espaces de travail afin de promouvoir la collaboration pour les campagnes, la création de contenus et la publication.
Schedule and design content on workspace calendars. You can manage your future and past content calendar with fully featured planning and scheduling tools designed for teams./Planifier et concevoir du contenu sur les calendriers d'espace de travail. Vous pouvez gérer le calendrier de vos contenus passés et futurs à l'aide d'outils de planification complets conçus pour le travail en équipe.
Create social content tailored to specific networks using our intelligent social network platform that goes beyond just a text entry box. Attach images or video for more impact./Créer des contenus sociaux adaptés à des réseaux spécifiques en utilisant notre plate-forme intelligente dédiée aux réseaux sociaux, offrant des fonctionnalités allant bien au-delà de la simple saisie de texte. Pour plus d'impact, joignez des images ou des vidéos.
Preview and approve content before going live using easy-to-create customized approval rules. Approval rules protect your brand integrity and ensure a consistent voice. Notifications for approvers appear in Social Studio and by email. If you're logged in and using Social Studio Mobile, notifications appear as push notifications./Prévisualiser et approuver les contenus avant de les publier en créant aisément et en utilisant des règles d'approbation personnalisées. Les règles d'approbation protègent l'intégrité de votre marque et garantissent un message cohérent. Des notifications pour les approbateurs sont affichées dans Social Studio et sont envoyées par e-mail. Si vous utilisez et êtes connecté à Social Studio Mobile, des notifications automatiques apparaissent.
Engage and respond to your social audience and focus on the changing content. You can use shortcuts and bulk actions aligning objectives, teams, and permissions with other content goals./Interagir avec et répondre à votre audience sociale et examiner les modifications des contenus. Vous pouvez utiliser des raccourcis et des actions en masse pour aligner les objectifs, les équipes et les autorisations avec d'autres objectifs de contenu.
Automate common actions and processes for classifying, reporting, and routing content using macros./Automatiser les actions et les processus courants de classement, de génération de rapports et d'acheminement de contenus à l'aide de macros
This table includes a list of the major features and tasks within the Social Studio platform./Ce tableau comprend une liste des principales fonctionnalités et tâches de la plateforme Social Studio.
Social Studio Component
Description
Composant Social Studio
Description
Admin
Manage administrative functions.

Add and manage users, topic profiles, social accounts, and macros. Connect existing Salesforce Service Cloud and Marketing Cloud accounts for integration to Service Cloud and Marketing Cloud.
Administrateur
Gérez les fonctions administratives.

Ajoutez et gérez des utilisateurs, des profils de rubriques, des comptes sociaux, et des macros. Connectez les comptes Salesforce Service Cloud et Marketing Cloud existants pour les intégrer à Service Cloud et Marketing Cloud.
Publish
Start conversations.

Publish enables you to create and publish content to one or more social accounts, across channels, in near real time, or scheduled to post later.
Publier
Entamez des conversations.

Publier vous permet de créer et de publier des contenus sur un ou plusieurs comptes sociaux, sur tous les canaux, en temps quasi réel ou planifiés pour une publication ultérieure.
Engage
Participate and manage conversations.

Engage allows you to moderate and join conversations started with the content created using Publish. Use classification and workflow controls to manage any scale of social engagement, enabling more complex use cases such as Social Customer Service and lead generation.
Engager
Participez et gérez des conversations.

Engager vous permet de modérer et de participer à des conversations sur les contenus créés à l'aide de Publier. Les contrôles de classification et de workflow vous permettent de gérer des interactions sociales de toutes envergures. Cela permet la prise en charge de cas d'utilisation plus complexes, comme le Service client social et la génération de pistes.
Analyze
Understand conversations.

Use Analyze to monitor multiple social accounts and topic profiles, discussions from owned social accounts, and broader social news. Create custom dashboards for sharing.
Analyser
Comprenez les conversations.

Utilisez Analyser pour surveiller plusieurs comptes sociaux et profils de rubrique, plusieurs discussions provenant de comptes sociaux individuels, et des actualités sociales globales. Créez des tableaux de bord personnalisés pour le partage
Einstein Vision
Classify images with data.

Use artificial intelligence to automatically classify incoming images. Einstein can classify the images by logo, scene, food, and object. The data returned provides deeper insights on what is important and being discussed about your brand.
Einstein Vision
Classez les images avec des données.

Utilisez l'intelligence artificielle pour classer automatiquement les images entrantes. Einstein peut classer les images par logo, lieu, nourriture, et objet. Les données renvoyées peuvent révéler des connaissances approfondies sur les thèmes importants et les discussions relatives à votre marque.
Overall Social Studio is a one-stop solution allowing you to manage, schedule, create, and monitor posts. So let's get you ready to start benefiting from these features! In the next unit, we explore Social Studio navigation and how to administer user roles and permission. /Pour résumer, Social Studio est une solution unique qui vous permet de gérer, planifier, créer et surveiller des publications. Commencez à bénéficier de ces fonctionnalités dès maintenant ! Dans l'unité suivante, nous découvrirons la navigation dans Social Studio et l'administration de rôles utilisateur et d'autorisations.
Resources /Ressources